Whether or not you've already read my blog which defines what condensate recovery actually is, you'll no doubt be aware of the growing need to make your process more productive. After all, energy costs are rising and ambitious carbon emissions targets are coming into play – as if we didn't have enough on our plates already!

Don't worry, though. I'm not planning to run through every possible way you could boost productivity. We would be here all day. Instead, I'm going to cover two uses of condensate to help you in your bid to boost your bottom line.

No matter what industry you work in, condensate has the potential to make a pretty big contribution to your plant's performance. But if you're going to keep your condensate, what can it actually be used for?


Boiler feedwater
We all know that heating up feedwater from cold can be pretty pricey. Why do so when you could be giving yourself and your energy bills a head start? Using condensate (which is already hot) not only reduces the need for fresh water treatment chemicals; it also means you can get away with using much less energy than you would need to heat that cold, make-up water. Indeed, re-using condensate in this way may just allow you to reduce your boiler fuel costs by 10–20%.

To look at things differently, every 6°C boost in the temperature of your feedwater is likely to knock 1% off your boiler's energy usage. And let's not forget, reducing boiler fuel demand has other benefits too. It can bring down your carbon dioxide, nitrogen oxides and sulphur oxides emissions, which will make your entire process more environmentally friendly.


Flash steam recovery
Flash steam is produced from condensate and is created when high pressure condensate is exposed to a large pressure drop, often during the blowdown process. If you can harvest and re-use this as much as possible, the results can be huge.

So how do you go about recovering your flash steam?

Using a flash vessel, you can recover energy by separating flash steam from condensate. As the condensate enters your flash vessel, flash steam is produced, which can be piped from the top of the vessel and can be directed anywhere.

You might also opt to fit float traps to the outlet of your flash vessel where residual blowdown water will be drained. The water will still be hot at this point and is allowed to pass into the plated heat exchanger, where it gives up its heat to the heating substance. Put simply, if we use the hot water from the flash vessel, heat energy is recovered.

The use of both a flash vessel and plated heat exchanger pack will allow you to recover up to 80% of the energy from the condensate, which can result in fuel savings, a reduction in carbon dioxide emissions, and the elimination of those unsightly plumes of steam. So, on top of those all-important cost savings, you can pack quite a punch in environmental benefits as well.

Our new white paper, The unsung hero of boilerhouse efficiency, goes into more detail on how condensate recovery can be a real game-changer in energy and facilities management. There's certainly much more to condensate than meets the eye. Get in touch and request a copy of our white paper.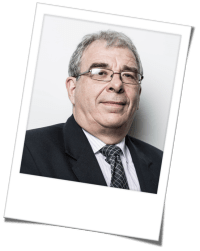 Chris Coleman, Condensate Handling Specialist