As a proactive and responsible Plant or Quality Manager in the food and beverage industry you'll already be familiar with the concept of Hazard Analysis Critical Control Points (HACCP) and the importance of including steam in HACCP analysis.

With your knowledge of the wider plant being in such high demand, accepting a helping hand to ensure regulatory compliance and high food quality standards can be a simple way of guaranteeing your plant's steam systems are included in HACCP.

Here are the five considerations for achieving HACCP happiness:


1.Treat steam as your one of your most important ingredients
The quality of your ingredients will already be at the forefront of your mind, but as a plant operator, you should see steam quality testing as an important stage in the food production process.

Whilst steam is the most efficient method of transferring heat to your process, plant managers must ensure it is free from contaminants. This will help to improve the overall quality of your products and reduce your maintenance workload. After all, you wouldn't use contaminated machinery to produce the food, so why risk the quality of your output by not giving steam the attention it deserves?


2.Control chemical-free feedwater quality
By ensuring that steam is included in your HACCP analysis you've already demonstrated that the risk of boiler-related contamination is unacceptable. But how do you take that one step further and show that you're really minimising risk?

Investing in a new clean steam system which uses 316 stainless steel pipes and components, immediately allows you to eliminate any potential risk of both particulate and chemical contamination from entering the manufacturing process.


3.Count on clean steam, side-step filtered steam
Steam plays a valuable role in the manufacture of food – from peeling and cooking to dehydration, it is an inevitable part of the food manufacturing chain.

While it is the industry standard, relying on filtered / culinary steam may not provide the consistency of the end product that your customers have come to expect, placing the reputation of the wider business at risk. Consistency is important in any business, by counting on clean steam you can better ensure the quality of your products. products.

4.Request a helping-hand
Achieving HACCP happiness needn't be a daunting task, especially when you're already up against looming deadlines and tightening budgets. Spirax Sarco can help to spread your workload, offering on-going support and advice in improving the quality of your clean steam systems as well as taking on some of your maintenance duties through a flexible service contract.
5. Explore new possibilities

Making use of a steam quality audit can provide you with the perfect opportunity to find and explore new ways of cutting those ever-increasing energy bills, improve productivity, reduce the demands placed on you owing to the maintenance workload, and improve the quality of your products by removing wet or dirty steam.

All audits are fully tailored to your needs and work around the hectic schedule of your plant. Giving you the detailed information needed to achieve HACCP happiness.

Now you've considered steam in your HACCP analysis, the question left to ask is: What are you waiting for?

For more information on achieving HACCP happiness, why not get in touch and request your 'Quick start guide to including your steam system in your HACCP'?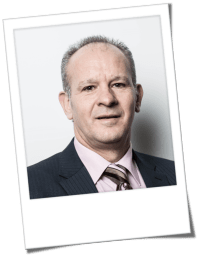 Francisco Pedrosa, Regional Clean Steam Specialist