Buy Your printed Copy of The Hook Up Book Design of Fluid Systems
The Hook-Up Book Design of Fluid Systems is a reference for those actively engaged in the design, operation and maintenance of steam, air and liquid systems. It is also intended as a learning tool to teach engineers how to design productive steam and fluid systems, efficiently and cost effectively.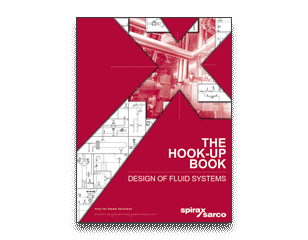 Purchase your printed copy of The Hook-Up Book Design of Fluid Systems by completing the form below. Payment with credit card will be required after form completion and the book will not ship until payment is processed.
This essential book is a comprehensive collection of design concepts, sizing tables and formulas, diagrams of fluid design applications and hook-ups, and an overview of current fluid control technology.

This relatively short powerful tool delivers the why, where, when, what, and how answers to your questions about the delivery and control of steam, condensate, and other industrial liquids.
Features
Illustrated Hook-Ups
Case In Action stories of real world applications
Engineering data and information to assist in estimating loads and flow rates
Complete library of Spirax Sarco steam traps
Summary of the range of Spirax Sarco equipment utilized in the hook-ups
Subject Index
Product Details
Paperback: 179 pages
Publication date: 13th edition, August 2017
Language: English
Units of measurement: Imperial
Price and Delivery
Price: $29.95
Shipping and handling is included.
Orders ship in the USA only
Delivery: Allow 1 to 3 weeks for delivery
To purchase The Hook-Up Book Design of Fluid Systems, complete the form below and pay with credit card.