Deaerator heat balance
To enable correct system design and to size the steam supply valve, it is important to know how much steam is needed to heat the deaerator. This steam is used to heat the feedwater from the usual temperature experienced prior to the installation of the deaerator to the temperature needed to reduce the dissolved oxygen to the required level.
The required steam flowrate is calculated by means of a mass/heat balance. The mass/heat balance works on the principle that the initial amount of heat in the feedwater, plus the heat added by the mass of injected steam must equal the final amount of heat in the feedwater plus the mass of steam that has condensed during the process.
Equation 2.11.3 is the mass/heat balance equation used for this purpose.

An existing boiler plant is fed with feedwater at a temperature of 85°C. Due to the rising cost of chemical treatment, it is proposed that a pressurised deaerator be installed, operating at 0.2 bar g to raise the feedwater temperature to 105°C, reducing the solubility of oxygen to quantities typically measured in parts per billion. Steam, produced in the boiler at 10 bar g, is to be used as the heating agent. If the 'From and At' rating of the boiler plant is 10 tonne/h, determine the flowrate of steam required to heat the deaerator.

Before any calculations can be made to estimate the size of the deaerator, it is important to know the maximum likely feedwater requirement. This is determined by calculating the boiler(s') maximum useful steaming rate, which in turn, depends on the initial feedwater temperature. The maximum steaming rate is found by determining the Boiler Evaporation Factor.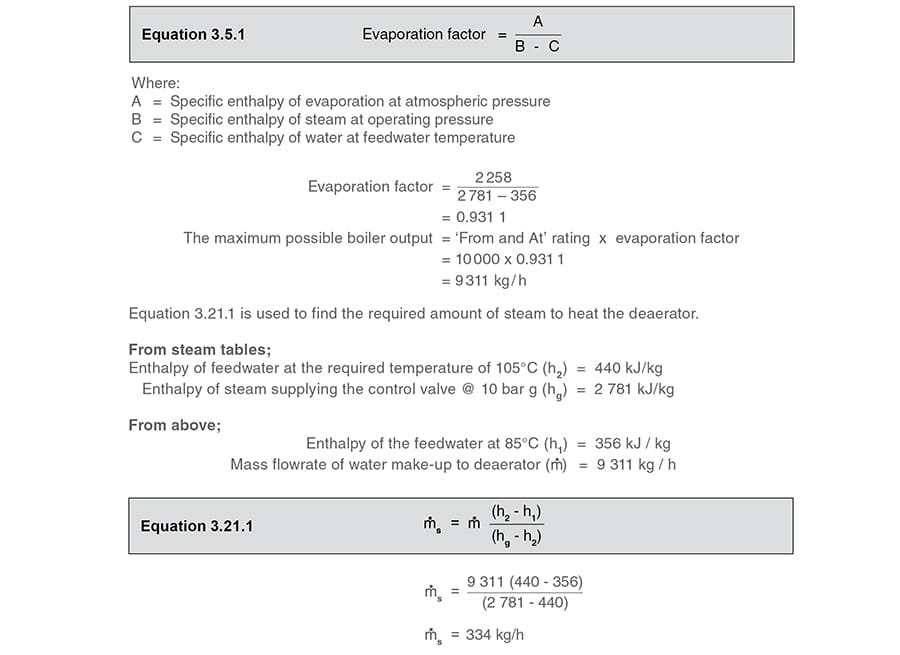 Therefore, the control valve has to be able to supply 334 kg /h of steam with a supply pressure of 10 bar g, and with a downstream pressure of 0.2 bar g.
Example 3.21.2
Sizing and selecting a control system for a pressurised deaerator
The selections in this example are not the only solutions, and the designer will need to consider the demands of an individual site with respect to the availability of electric and pneumatic services.
The objective of this Section is the selection of control valves and systems. Pipeline ancillaries such as strainers and stop valves have been omitted for clarity, they are, nevertheless, vitally important to the smooth running and operation of a pressurised deaerator.
Data
As shown in Figure 3.21.4 plus the actual output shown below:
Boiler:
-Operating pressure (P1) = 10 bar g
-'From and At' rating = 10 000 kg/h
-Actual output = 9 311 kg/h with a feedwater temperature of 85°C
Deaerator:
-Operating pressure (P2) = 0.2 bar g (Saturation temperature 105°C)
The steam control valve
Sizing a control valve for saturated steam service can be determined using Equation 3.21.2:
However, since P2 (1.2 bar a) is less than 58% of P1 (11 bar a) the steam flow is subjected to critical pressure drop, so Kv can be calculated from the simpler equation (Equation 6.4.3) used for critical flow conditions.

The selected control valve should have a Kvs larger than 2.53, and would normally be provided by a DN15 valve with a standard Kvs of 4, and an equal percentage trim.

Steam control equipment selection
This control will need to respond quickly to changes in pressure in the deaerator, and to accurately maintain pressure; a valve with a pneumatic actuator would operate in the required manner. The pressure sensing and control functions may be provided either by pneumatic or electronic equipment and the control signal output (0.2 to 1 bar or 4 - 20 mA) should go to an appropriate positioner.
Equipment required
A DN15 two port valve with standard equal percentage trim (Kvs = 4).
A pneumatic actuator able to close a DN15 valve against a pressure of 10 bar.
A pneumatic-pneumatic positioner with mounting kit (alternatively an electropneumatic positioner with mounting kit).
A pneumatic controller with a range of 0 - 7 bar (alternatively an electronic controller and sensor with an appropriate range).
As mentioned earlier, a pilot operated self-acting pressure control may be acceptable. A direct acting diaphragm actuated self-acting pressure control, however, should be avoided if the deaerator load changes considerably, as the wide P-band associated with such valves may not give accurate enough pressure control over the load range.
Control for the water system (level control)
Water supply:
Transfer pump discharge pressure = 2 bar g
Feedtank temperature = 85°C
Steam flowrate to the deaerator (m_dot - body text.jpgs) has already been calculated at 334 kg/h.
In this example the maximum water flowrate (the 'actual' capacity of the boiler) to the deaerator is 9 311 kg/h. Water valves are sized on volume flowrates, so it is necessary to convert the mass flow of 9 311 kg/h to volumetric flow in m3/ h.
The pump discharge pressure onto the control valve is 2 bar g. From steam tables, the specific volume of water at 2 bar g and 85°C is 0.001 032 m3/ kg.
It is important to determine the pressure required behind the water distribution nozzle to give proper distribution; the control valve selection must take this into consideration. For this example, it is assumed that a pressure of 1.8 bar is required at the inlet to the distributor nozzle.
The sizing parameters for the water control valve are:
V = 9 311 kg/h x 0.001 032 m3/kg = 9.6 m3/h
P1 = 2 bar g
P2 = 1.8 bar g
Sizing a control valve for liquid service can be determined by calculating the Kv, see Equation 3.21.3: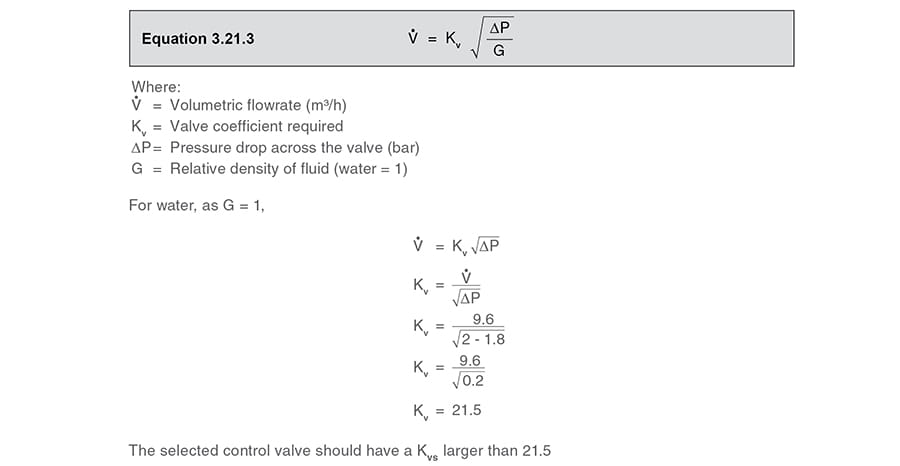 Water control equipment selection
Because of the relatively large mass of water held in the deaerator, the speed of control signal response is not normally an issue, and an electrically actuated control may provide an adequate solution.
However, a pneumatically actuated control will provide equally as good a solution.
Equipment required:
A DN40 two port valve with standard trim (Kvs = 25).
An electric actuator that will close a DN40 valve against the maximum transfer pump pressure.
A feedback potentiometer will be needed with the actuator.
A capacitance level probe of appropriate length with a preamplifier.
A level controller to accept the signal from the capacitance probe, and then pass a modulating signal to the valve actuator.
Note that this only gives water level control plus either a high or low alarm. Should additional low or high alarms be required, the options are either:
A capacitance level probe with level controller, which can provide two additional level alarms.
A four-tip conductivity level probe, with a level controller, which can provide up to four level alarms.
or
3. A single tip high integrity, self-monitoring level probe and associated level controller which will provide either a high or low level alarm.
Table 3.21.2 identifies the major difficulties that may be encountered with a pressurised deaerator, and their possible causes.