Heat exchangers draining to a positive pressure
Often, and especially on larger plant, it is usually preferable not to introduce air into the steam space, and the use of a vacuum breaker may not be tolerated. Also, if the condensate lifts after the steam trap up to a higher level, a vacuum breaker cannot assist drainage. In these situations, a pump-trap or pump/trap combination should be used.

If stall is inevitable and a vacuum breaker cannot be used, an active method of condensate removal must be used to give good system performance. A pump-trap (as shown in Figure 11.10.2), will perform as a steam trap if there is sufficient steam pressure in the steam space to overcome the backpressure. If there is not, it will act as a pump. The device is fully self-contained and automatic in its operation.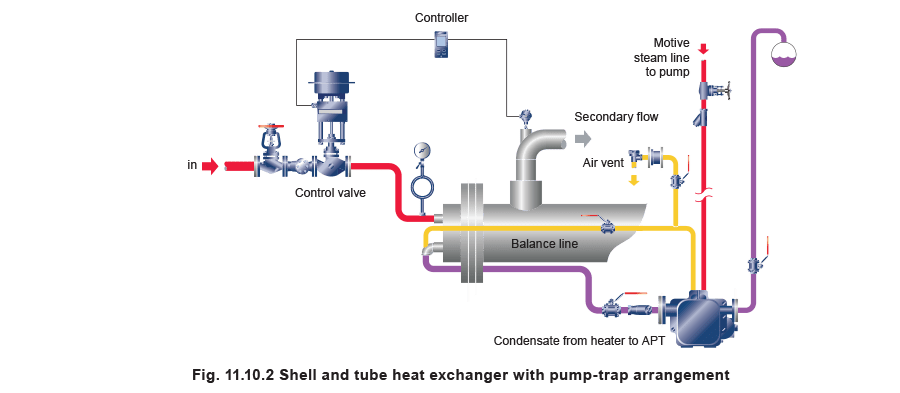 The pump-trap is also extremely useful where restricted space exists below the heater, for example on air handling units which are often positioned close to the plant room floor. Figure 11.10.3 shows an example draining single and multi-heater batteries to avoid both freezing and corrosion of the coils.
When a pump-trap arrangement is used, condensate will always be removed from the heater under all pressure conditions, ensuring maximum system efficiency at all times, with no escape of flash steam in the plant room.

Where plant capacity is too large for the pump-trap, it can be replaced by a separate pump and steam trap in combination, such as that shown in Figure 11.10.4. A pressure powered pump is dedicated to a single heater, connected so that the pump chamber, piping, and the steam side of the heater tubes form a common steam space. When the steam pressure is sufficiently high, condensate flows from the steam space and through the pump body and steam trap into the condensate system. When the pressure is lowered as the control valve throttles, condensate fills the pump chamber till full. When the pump chamber is full, a mechanism triggers allowing 'motive' steam to enter the chamber. This pushes condensate out of the chamber and away through the trap.

The pump exhaust line is connected to a reservoir and acts as a balance pipe when the pump is filling. The small amount of exhaust steam is then contained within the system, and pumping occurs with no waste of steam to atmosphere. The system will be energy efficient, and the plant room will be free from flash steam.

If it can be guaranteed that the condensate pressure will always be higher than the steam pressure in the steam space, a trap does not need to be installed with the pump.

Further details on the subject of condensate drainage from temperature controlled heat exchangers can be found in Block 13, 'Condensate Removal'.