Extra large air vents
The capacity of an air vent depends on the size of the orifice, the differential pressure across the seat, and the properties of the gas being discharged. In some instances, the steam spaces being vented are very large, as in large sterilisers and retorts in the food industry, large autoclaves, rubber curing vessels etc. The amount of air to be vented may then be so great as to require large numbers of air vents to be fitted in parallel. An alternative answer is to use a self-acting temperature control, fitted similarly to that in Figure 11.13.2.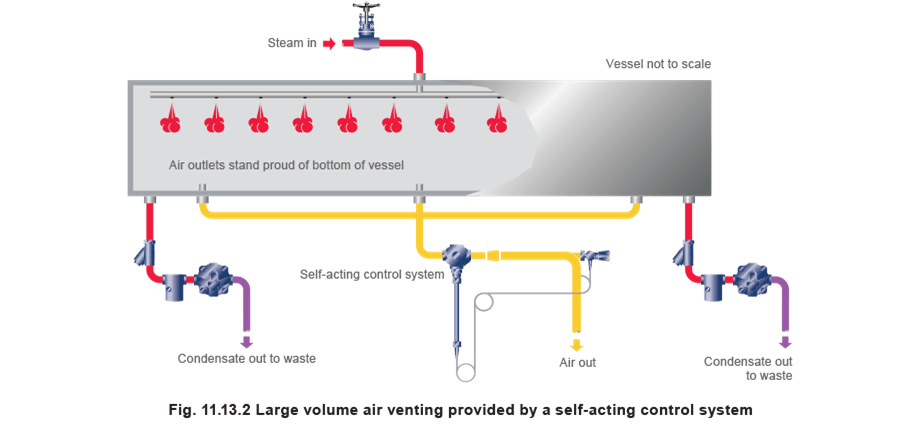 The valve must be of a pattern suitable for use on steam service. The valve is positioned by the control system, and the temperature sensor is located on the downstream side of the valve. The temperature setting is adjusted to 100°C, or just below this value. Since the pressure in the tail pipe at the temperature sensor is atmospheric, the temperature at this point would be 100°C if air-free steam had reached the sensor after flowing through the valve. At this temperature, the valve should just be closed. Any lower temperature at the sensor location means that some air is present, and the valve will be slightly opened.

Positioning the temperature sensor in this way, downstream of the valve where the line pressure is atmospheric, nullifies the effect of pressure upstream of the valve. The control system has only to close the valve when the sensor temperature reaches 100°C and open it at lower temperatures. This arrangement makes it quite practical to use air vent valves as large as the DN50, which enables large volumes of air to be discharged.