The effect of air
If air is mixed with steam and flows along with it, pockets of air will remain at the heat exchange surfaces where the steam condenses. Gradually, a thin layer builds up to form an insulating blanket, hindering heat transfer as shown in Figure 11.12.1. Air is widely used as an insulator because of its low conductivity (for instance, double glazing used in modern windows is simply two layers of glass with an insulating layer of air sandwiched between them). Similarly, air is used to reduce the heat loss from steam pipes. Most insulating material is made up of millions of microscopic air cells, within a matrix of fibre glass, mineral wool, or polymer-type material. The air is the insulator and the solid material simply holds it in position. Similarly, a film of air on the steam side of a heat transfer surface is resistive to the flow of heat, reducing the rate of heat transfer.

The thermal conductivity of air is 0.025 W/m °C, while the corresponding figure for water is typically 0.6 W/m °C, for iron it is about 75 W/m °C and for copper about 390 W/m °C. A film of air only 1 mm thick offers about the same resistance to heat flow as a wall of copper some 15 metres thick!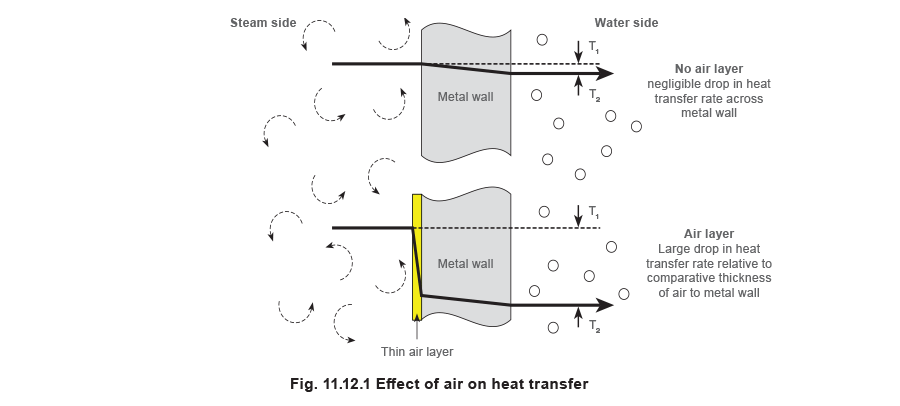 It is unlikely that the air exists as an even film inside the heat exchanger. More probably, the concentration of air is higher close to the condensing surface, and lower further away. It is convenient however, to deal with it as an homogeneous layer when trying to show its resistance to heat flow.
When air is added to steam, the heat content of a given volume of the mixture is lower than the same volume of pure steam, so the mix temperature is lowered.
Dalton's Law of Partial Pressures states that; 'In a mixture of steam and air, the total pressure is the sum of the partial pressure each gas would exert, when occupying the total volume on its own'.
For example, if the total pressure of a steam/air mixture at 2 bar (absolute) is made up of 3 parts steam to 1 part air by volume, then:
Partial pressure of air = ¼ x 2 bar a = 0.5 bar a
Partial pressure of steam = ¾ x 2 bar a = 1.5 bar a
Total pressure of mixture = 0.5 + 1.5 bar a = 2 bar a (1 bar g)
The pressure gauge would indicate a pressure of 1 bar g, inferring a corresponding temperature of 120°C to the observer. However, the partial pressure due to the amount of steam present in the mixture is only 0.5 bar g (1.5 bar a), contributing a temperature of only 112°C. Hence, the presence of air has a double effect:
It offers a resistance to heat transfer via its layering effect.
It reduces the temperature of the steam space thus reducing the temperature gradient across the heat transfer surface.
The overall effect is to reduce the heat transfer rate below that which may be required by a critical process, and in worst cases may even prevent a final required process temperature being reached.
In many processes, a minimum temperature is needed to achieve a chemical or physical change in a product, just as a minimum temperature is essential in a steriliser. The presence of air is particularly problematic because it will cause a pressure gauge to mislead. It follows that the temperature cannot be inferred from the pressure.