Waterhammer
As steam begins to condense due to heat losses in the pipe, the condensate forms droplets on the inside of the walls. As they are swept along in the steam flow, they then merge into a film. The condensate then gravitates towards the bottom of the pipe, where the film begins to increase in thickness.


The build up of droplets of condensate along a length of steam pipework can eventually form a slug of water (as shown in Figure 2.4.4), which will be carried at steam velocity along the pipework (25 - 30 m/s).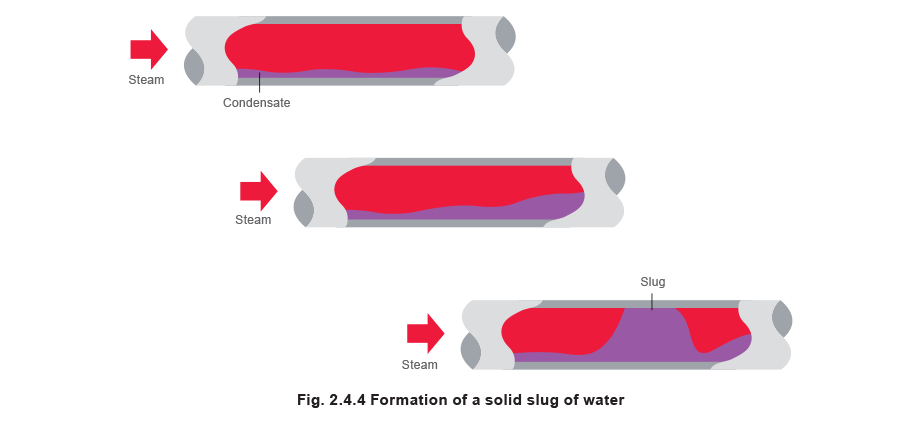 This slug of water is dense and incompressible, and when travelling at high velocity, has a considerable amount of kinetic energy.
The laws of thermodynamics state that energy cannot be created or destroyed, but simply converted into a different form.
When obstructed, perhaps by a bend or tee in the pipe, the kinetic energy of the water is converted into pressure energy and a pressure shock is applied to the obstruction.
Condensate will also collect at low points, and slugs of condensate may be picked up by the flow of steam and hurled downstream at valves and pipe fittings.
These low points might include a sagging main, which may be due to inadequate pipe support or a broken pipe hanger. Other potential sources of waterhammer include the incorrect use of concentric reducers and strainers, or inadequate drainage before a rise in the steam main. Some of these are shown in Figure 2.4.5.
The noise and vibration caused by the impact between the slug of water and the obstruction, is known as waterhammer.
Waterhammer can significantly reduce the life of pipeline ancillaries. In severe cases the fitting may fracture with an almost explosive effect. The consequence may be the loss of live steam at the fracture, creating a hazardous situation.
The installation of steam pipework is discussed in detail in Block 10, Steam Distribution.