Example 2.12.1 Heat losses from a steam pipeline
A system consists of 100 m of 100 mm carbon steel main, which includes 9 pairs of PN40 flanged joints, and one isolating valve.
cp for steel = 0.49 kJ/kg °C
The ambient/starting temperature is 20°C and the steam pressure is 14.0 bar g, 198°C from steam tables (see Table 2.12.2).

Determine:
Part 1. The warm-up condensing rate for a warm-up time of 30 minutes.
Part 2. The running load if the insulation thickness is 75 mm.
Part 1 Calculate the warm-up load

Note: This condensing rate will be used to select an appropriate warm-up control valve.
When selecting steam traps, this condensing rate should be multiplied by a factor of two to allow for the lower steam pressure that will occur until warm-up is completed, then divided by the number of traps fitted to give the required capacity of each trap.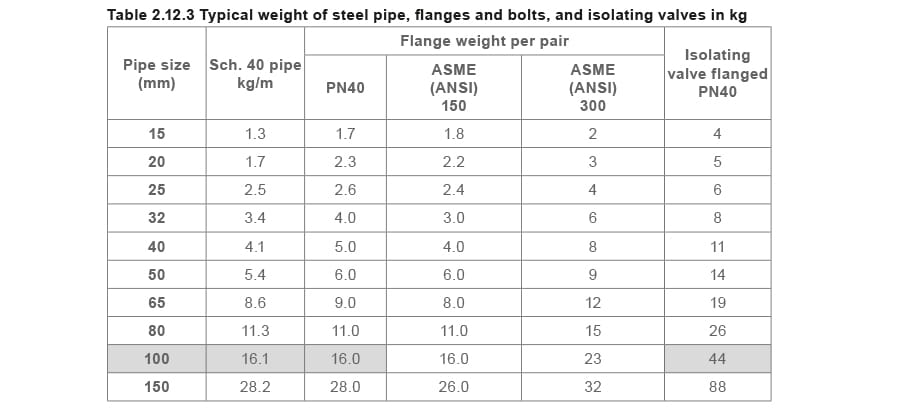 Part 2 Running load
Steam will condense as heat is lost from the pipe to the environment: The rate of condensation depends on the following factors:
The steam temperature.
The ambient temperature.
The efficiency of the lagging.
Table 2.12.4 gives typical heat emission rates expected from unlagged steel pipes in still air at 20°C.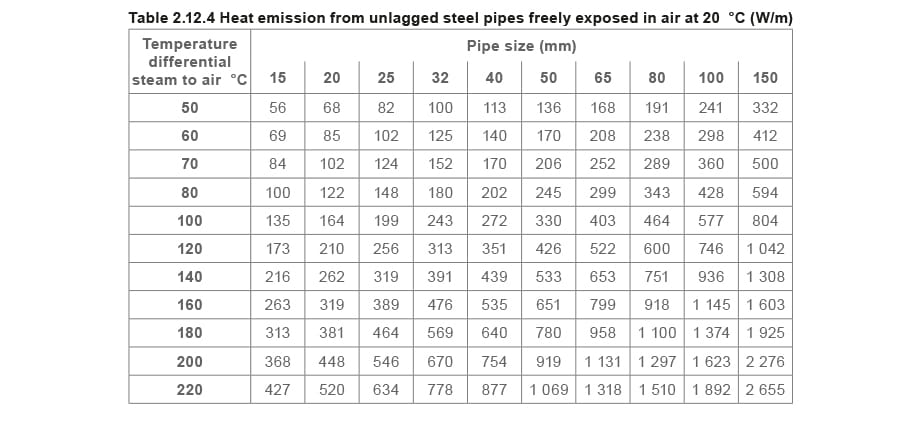 Distribution mains will normally be lagged however, and is obviously an advantage if flanges and other items of pipeline equipment are lagged too. If the main is flanged, each pair of flanges will have approximately the same surface area as 300 mm of pipe of the same size.
The rate of heat transfer increases when a heat transfer surface is subjected to air movement. In these cases, the multiplication factors, as shown in Table 2.12.5, should be considered.
If finned or corrugated tubing is fitted, then the maker's figures for heat emission should always be used.
In everyday terms, air velocities up to 4 or 5 m/s (approximately 10 mph) represent a gentle breeze, between 5 and 10 m/s (approximately 10 - 20 mph) a strong breeze. Typical air duct velocities are around 3 m/s, in comparison.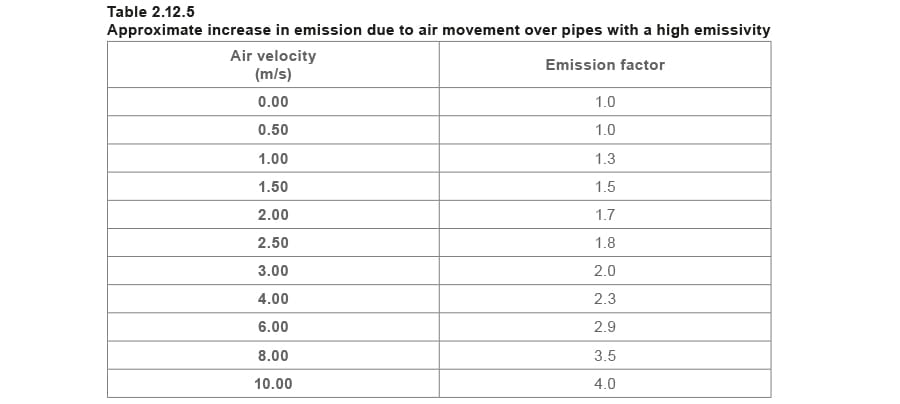 Note: Exact figures are difficult to determine, as many factors are involved. The factors in Table 2.12.5 are derived and give a rough indication of how much the figures in Table 2.12.4 should be multiplied. Pipes subjected to air movement up to around 1 m/s can be thought of as being in still air, and heat losses are fairly constant up to this point. As a guide, painted pipes will have a high emissivity, oxidised steel a medium emissivity, and polished stainless steel a
low emissivity.
The reduction in heat losses will depend on the type and thickness of the lagging material used, and on its general condition. For most practical purposes, the lagging of steam lines will reduce the heat emissions in Table 2.12.4 by the insulation factors (f) shown in Table 2.12.6.
Note that these factors are nominal values only. For specific calculations, consult the insulation manufacturer.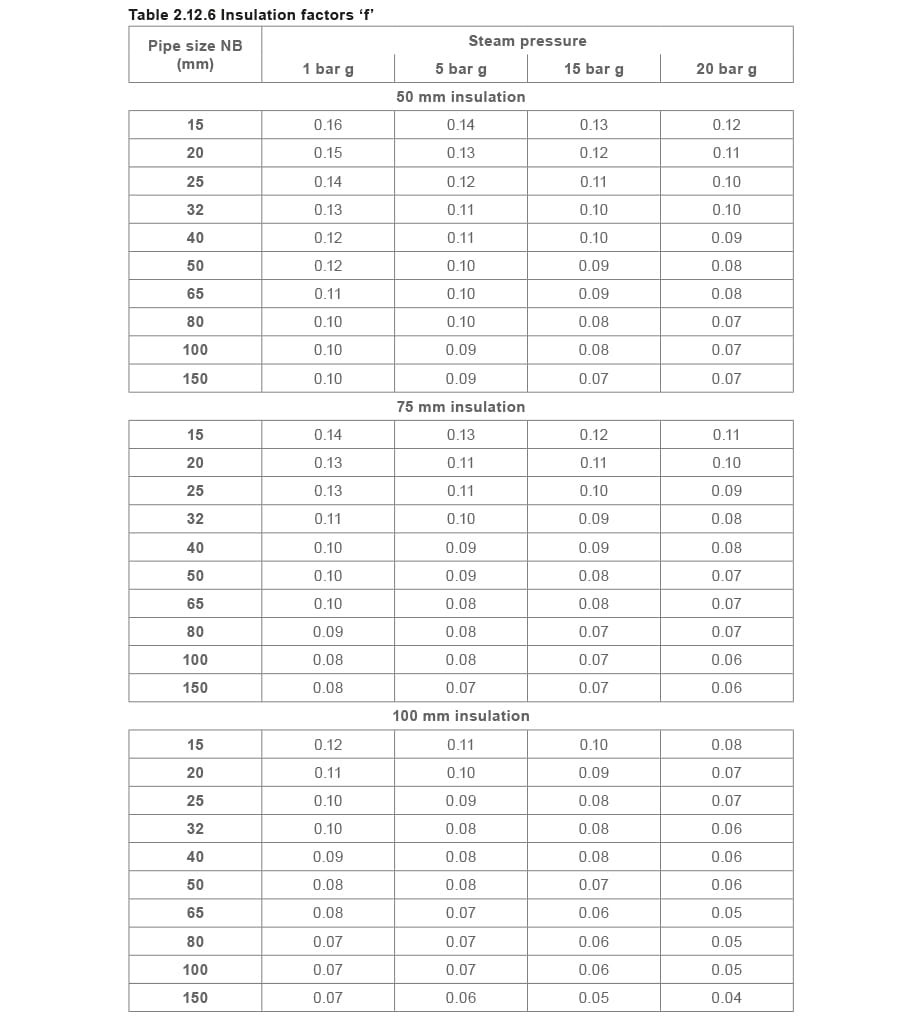 The heat loss from insulated mains can be expressed as follows in Equation 2.12.2:

Determine the length, L:
Assuming an allowance equivalent to 0.3 m for each pair of flanges, and 1.2 m for each stop valve, the total effective length (L) of the steam main in this example is:
Determine the heat emission rate, Q̇:
The temperature of the steam at 14.0 bar gauge is 198 °C and, with the ambient temperature 20 °C, the temperature difference is 178 °C.
From Table 2.12.4: Heat loss for a 100 mm pipe ≈ 1 374 W / m
Determine the insulation factor, f:
The insulation factor for 75 mm insulation on 100 mm pipe at 14 bar g (from Table 2.12.6) is approximately 0.07.
As can be seen from this example, the warm-up load of 161 kg/h (see Example 2.12.1, Part 1) is substantially greater than the running load of 18.3 kg/h, and, in general, steam traps sized on the warm-up duty will automatically cater for the running load.
If the steam line above was unlagged or the lagging was damaged, the running load would have been approximately fourteen times greater.
With an uninsulated pipe, or a poorly insulated pipe, always compare the running and warm-up loads. The higher load should be used to size the steam traps, as described above. Ideally, the quality of insulation should be improved.
Note: When calculating warming up losses, it is sensible to consider the correct pipe specification, as pipe weights can vary between different pipe standards.