Tracer lines
Pipelines carrying viscous fluids are frequently maintained at an elevated temperature by means of steam tracers. These usually consist of one or more small bore steam lines running alongside the product line, the whole being covered in insulation.
In theory, the exact calculation of steam consumption is difficult, as it depends on:
The degree of contact between the two lines, and whether heat conducting pastes are used.
The temperature of the product.
The length, temperature and pressure drop along the tracer lines.
The ambient temperature.
Wind speed.
The emissivity of the cladding.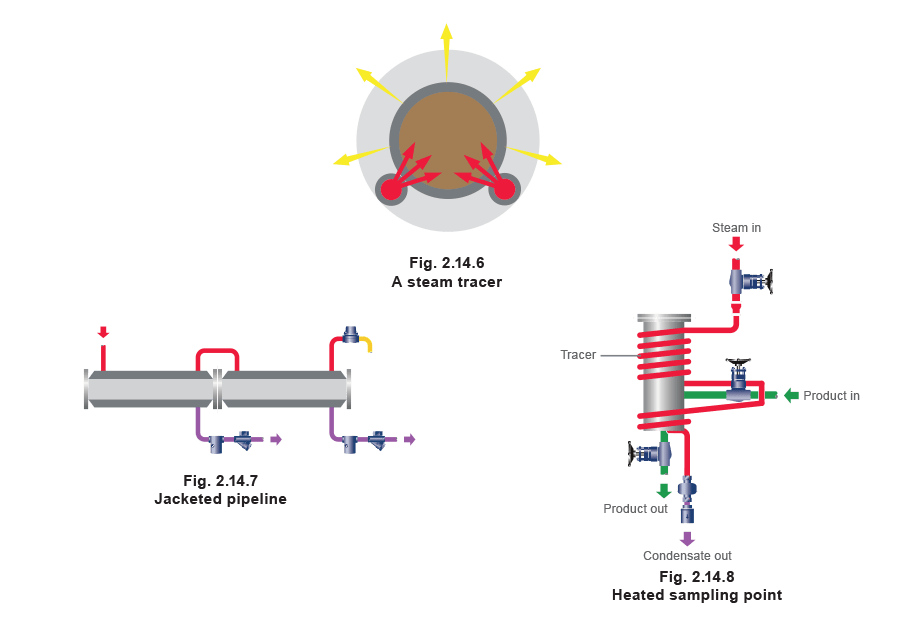 In practice, it is usually safe to assume that the tracer line simply replaces radiation losses from the product line itself. On this basis, the steam
consumption of the tracer line may be taken as a running load being equal to the radiation loss from the product lines.
Table 2.14.1 provides heat losses from insulated pipes with either 50 or 100 mm of insulation.
Example 2.14.5
A 50 m long x 200 mm pipe contains a liquid product at 120 °C. The ambient temperature is 20 °C, the pipe has 50 mm of insulation, and steam is supplied at 7 bar g to the tracer(s).
Determine the steam consumption:

For jacketed lines, the heat loss may be assumed to be the same as that from a steam main which has a diameter equal to that of the jacket; also taking any insulation into account.
When sizing the steam traps, a factor of 2 times the running load should be used to cover startup conditions, but any temperature control valve can be sized to handle the design load only.
Sizing the tracer line
Example 2.14.5 calculates the steam tracer load on the basis of the heat loss from the pipe.
In practice, the tracer line will not be exactly sized to match this heat loss. Table 2.14.2 shows the useful heat output from 15 mm and 20 mm steel and copper tracer lines operating at different pressures alongside product lines at different temperatures. The Table accounts for heat losses from the tracer lines to the surrounding air through the insulation.
In Example 2.14.5, the heat loss from the pipe was 97 W/m. The tracer line has to be able to supply at least this rate of heat transfer.
Table 2.14.2 shows that, by interpolation, the useful heat output from a 15 mm steel tracer line is 33 W/m for a product temperature of 120 °C and a steam pressure of 5 bar g.
The number of tracers required to maintain the product temperature of 120 °C are therefore:

Therefore three 15 mm steel tracer lines will be required for this application as shown in Figure 2.14.9.