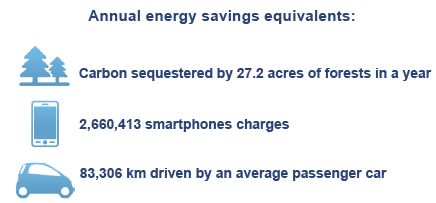 Having previously collaborated with us to improve pressure control requirements, a healthcare provider approached Spirax Sarco to examine their existing pressurized dearator and propose optimization updates - with respect to operational and safety concerns. The thirty year old, mezzanine-installed dearator had its original float style controls, with their housings corroded and treated water spilling on the mezzanine and ground level floors. In addition, the aging mechanism with high hysteresis of level controls caused the tank to overflow, leading to wastage.
The DA tank condensate return line was controlled by solenoid valves and feed pumps, both starting and stopping based on a Hi level set point. The feed pumps were interlocked with the LoLo level on the DA tank. Some of the challenges included the customer's reluctance to use floats and d/p transmitters due to their reliability. In addition, operators required a remote access subpanel on the ground level to acknowledge alarms without attending to the mezzanine.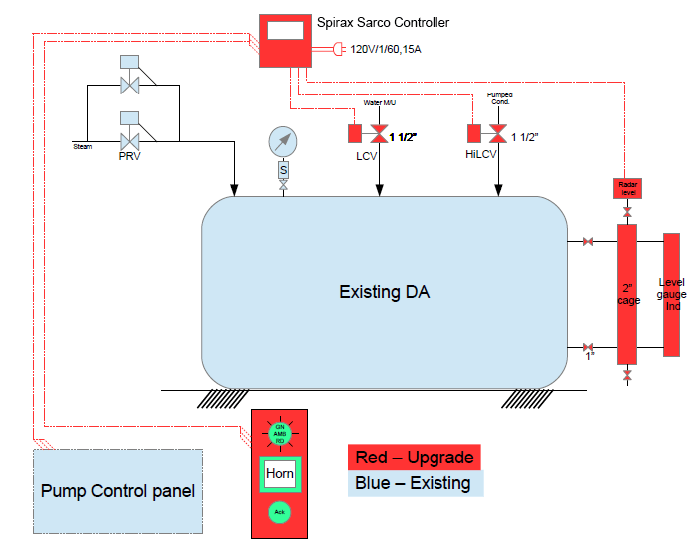 A turnkey project was carried out, including the mechanical and electrical installation, start up and commissioning. The existing floats and solenoid valves were removed and bi-directional piston actuated valves were installed to control make-up water and condensate return. Water hammer arrestors were used prior to the piston valves. A radar level sensor, with a Spirax Sarco controller was used to measure level and interface with the customer's existing pump control systems. The subpanel incorporated features such as pilot lights for limit alarms, horn, and acknowledgments. To ensure safety measures, the boiler feed pumps were interlocked with the LoLo level so that the pumps operate during power interruption. All systems were tested and logic verified in the field, as a substantiating measure for the entire project.
The upgraded system has now mitigated the customer's safety and operational concerns. Spirax Sarco's expertise delivered modern level control systems with no moving parts, increasing accuracy and reliability. Solutions included tight radar level control band held by the controller and piston valves with zero leakage. Operators are now remotely alerted about any DA tank malfunction. In conclusion, Spirax Sarco was able to address customer's safety concerns as well as deliver operational and performance improvements, meanwhile reducing impact on the environment.