Controllers
It is important to state at the outset that not all control applications need a sophisticated controller.

An on/off valve and actuator, for example, can be operated directly from a thermostat. Another example is the operation of high limit safety controls, which have a 'snap' action to close valves or to switch off fuel supplies.

However, when the control requirements become more sophisticated, a controller is needed to match these requirements.

The controller receives a signal, decides what action is needed and then sends a signal to the actuator to make it move.

In the age of the microchip, integrated circuits and computers, the functions performed by the controller can be very complex indeed.

However, since an analogy between the human brain and controllers/computers has been made in previous Modules, the renowned IBM motto can be paraphrased:

Computer - Fast, accurate and stupid

Human being - Slow, slovenly and brilliant

To summarise, the controller will not solve all problems. It must be properly selected and commissioned, subjects which will be dealt with later.

Although most controllers are now electronic digital/microprocessor based, a range of pneumatic controllers is commercially available. These might be used in hazardous areas where the risk of explosion precludes the use of electrics/electronics. It is possible to make electrical equipment 'intrinsically safe' or explosion-proof or flameproof, however, there is usually a substantial cost implication.

As previously mentioned, the functions carried out by the controller can be very complex and it is beyond the scope of this publication to list them in detail, or to explain how they operate.

The major variations that require consideration are as follows:

Single loop controller

Operates one valve/actuator from a single sensor.

Multi-loop controller

May operate more than one valve/actuator from more than one sensor.

Single input/output

Can accept only one signal from the sensor and send only one to the actuator.

Multi-input/output (multi-channel)

Can accept several signals and send out several signals.

Real time

May include a time clock to switch at pre-determined, pre-set times.

Elapsed time

May switch at some predetermined, pre-set length of time before or after other items of plant have been switched on or off.

Ramp and dwell

Using temperature as an example, the capability to raise the temperature of a controlled medium over a specified time period and then to hold it at a pre-set value. Such controllers frequently incorporate a series of ramps and dwells.

Figure 6.7.1, shows a typical electronic, single loop controller. This has P + I + D action (discussed in Modules 5.2 and 5.4), suitable for 110 or 230 volt supply.

Figure 6.7.2 shows a pneumatic single loop controller with P action.

Different models can be selected to control either temperature or pressure.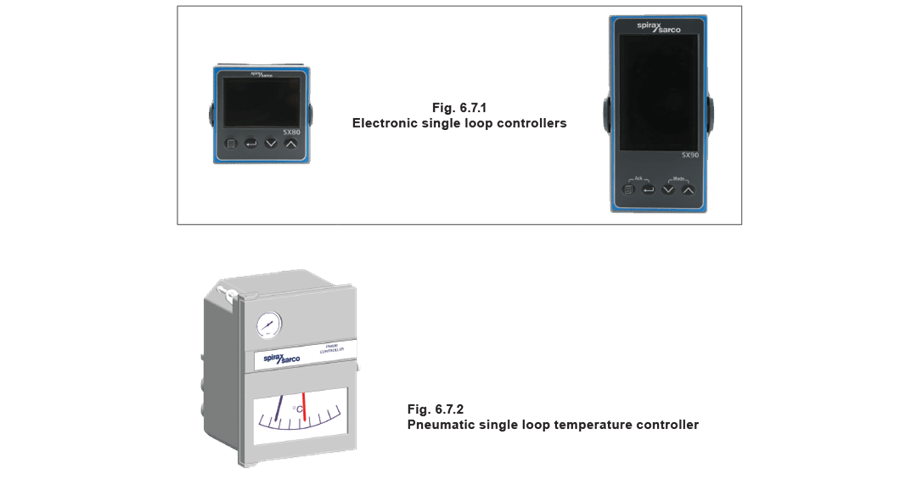 A single loop controller, which has the ability to perform ramp and dwell functions, may have a typical sequence pattern like the one shown in Figure 6.7.3. This shows a series of ramps (temperature change) and dwell (maintaining temperature) functions, carried out over a period of time

Sensors
In this Section the subject of temperature measurement will be covered more broadly. There are a wide variety of sensors and transducers available for measuring pressure, level, humidity, and other physical properties. The sensor is the part of the control system, which experiences the change in the controlled variable.

The sensor may be of a type where a change in temperature results in a change of voltage or perhaps a change in resistance.

The signal from the sensor may be very small, creating the need for local signal conditioning and amplification to read it effectively. A small change in resistance signalled by a sensor in response to a change in temperature, may, for example, be converted to an electrical voltage or current for onward transmission to the controller.

The transmission system itself is a potential source of error.

Wiring incurs electrical resistance (measured in ohms), as well as being subject to electrical interference (noise). In a comparable pneumatic system, there may also be minute leaks in the piping system.

The term 'thermostat' is generally used to describe a temperature sensor with on/off switching.

'Transducer' is another common term, and refers to a device that converts one physical characteristic into another; for example, temperature into voltage (millivolts).

An example of a transducer is a device that converts a change in temperature to a change in electrical resistance.

With pneumatic devices, the word 'transmitter' is frequently encountered. It is simply another description of transducer or sensor, but usually with some additional signal conditioning.

However, the actual measuring device is usually termed as the sensor, and the more common types will be outlined in the following Section.

Filled system sensors
With pneumatic controllers, filled system sensors are employed. Figure 6.7.4 illustrates the principles of such a system.

One term frequently found in control literature is 'Programmable Logic Controller (PLC)'. In a batch process, the controller must trigger a sequence of actions, for example, turning valves or pumps on or off. In some cases the whole sequence is on a timed basis, but often the various steps may be triggered by a specific condition being reached and maintained for a certain time period; for example a certain temperature being reached or a vessel filled. These sequences can be controlled by a PLC, a microcomputer-based device that utilises standard interfaces for sensors and actuators to control the process.

Another type of complex controller is the plant room controller, which might be used to control the boiler, pump, heating control valve, HWS valve, as well as providing a number of other features.

When the temperature changes, the fluid expands or contracts, causing the Bourdon tube to tend to straighten out. Sometimes a bellows is used instead of a Bourdon tube.

In the past, the filling has often been mercury. When heated, it expands, causing the Bourdon tube to uncoil; cooling causes contraction and forces the Bourdon tube to coil more tightly. This coil movement is used to operate levers within the pneumatic controller enabling it to perform its task. A pressure sensing version will simply utilise a pressure pipe connected to the Bourdon tube. Note: for health and safety reasons, mercury is now used less often. Instead, an inert gas such as nitrogen is often employed.

Resistance temperature detectors (RTDs)

RTDs (Figure 6.7.5) employ the fact that the electrical resistance of certain metals change as the temperature alters. They act as electrical transducers, converting temperature changes to changes in electrical resistance. Platinum, copper, and nickel are three metals that meet RTD requirements and Figure 6.7.6 shows the relationship between resistance and temperature.
A resistance temperature detector is specified in terms of its resistance at 0°C and the change in resistance from 0°C to 100°C. The most widely used RTD for the typical applications covered in these Modules are platinum RTDs. These are constructed with a resistance of 100 ohms at 0°C and are often referred to as Pt100 sensors. They can be used over a temperature range of -200°C to +800°C with high accuracy (±0.5%) between 0°C and 100°C.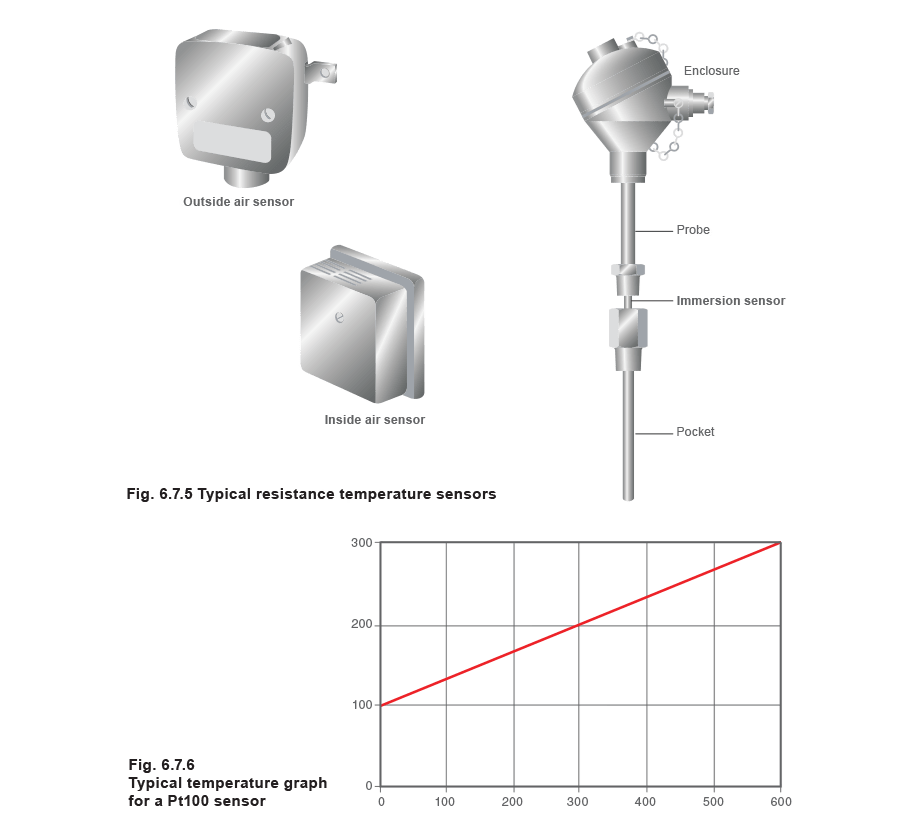 As can be seen from Figure 6.7.6, the increase of resistance with temperature is virtually linear. Pt100s have a relatively small change in resistance, which requires careful measurement. Resistance in the connecting cables needs to be properly compensated for.

Thermistors
Thermistors use semi-conductor materials, which have a large change in resistance with increasing temperature, but are non-linear. The resistance decreases in response to rising temperatures (negative coefficient thermistor), as shown in Figure 6.7.7.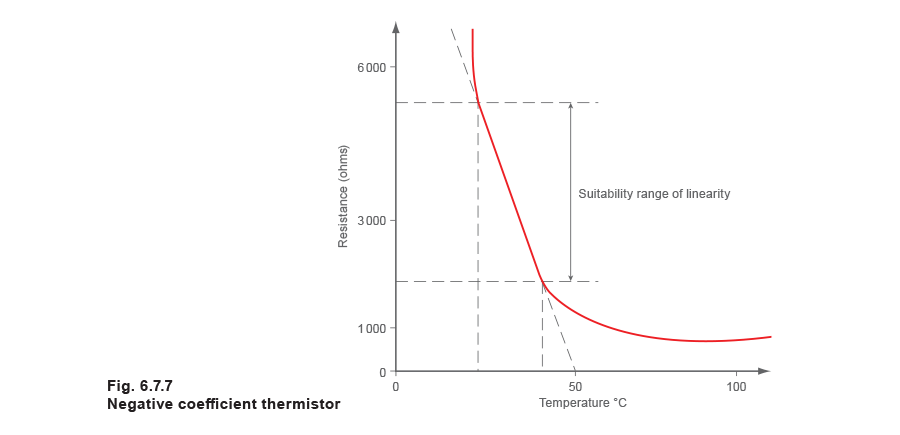 Positive coefficient thermistors can be manufactured where the resistance increases with rising temperature (Figure 6.7.8) but their response curve makes them generally unsuitable for temperature sensing.
Thermistors are less complex and less expensive than RTDs but do not have the same high accuracy and repeatability. Their high resistance means that the resistance of the connecting cable is less important.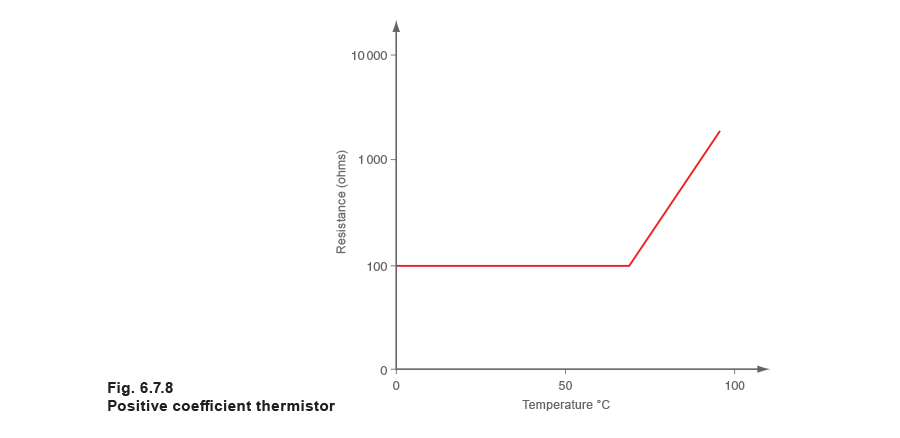 Thermocouples
If two dissimilar metals are joined at two points and heat is applied to one junction (as shown in Figure 6.7.9), an electric current will flow around the circuit. Thermocouples produce a voltage corresponding to the temperature difference between the measuring junction (hot) and the reference junction (cold).

The cold reference junction temperature must be accurately known if the thermocouple itself is to provide accurate sensing.
Traditionally, the cold junction was immersed in melting ice (0°C), but the temperature of the cold junction is now measured by a thermistor or an RTD and, from this, the indicated temperature, generally at the measuring junction, is corrected. This is known as cold junction compensation.

Any pair of dissimilar metals could be used to make a thermocouple. But over the years, a number of standard types have evolved which have a documented voltage and temperature relationship. The standard types are referred to by the use of letters, that is, Type J, K, T and others.
The most widely used general-purpose thermocouple is Type K.
The dissimilar metals used in this type are Chrome (90% nickel, 10% chromium) and Alumel (94% nickel, 3% manganese, 2% aluminium and 1% silicon) and can be used between the range 0°C to 1 260°C. Figure 6.7.10 illustrates the sensitivity of Type K thermocouples, and it can be seen that the output voltage is linear across the complete range.

Extension tail wires are used to connect the measuring junction to the reference junction in the instrument case. These extension tails may be of the same material as the wires in the thermocouple itself, or may be a compensating cable made of copper and copper-nickel alloy. Both extension tails must be of the same material.
Thermocouples are available in a wide variety of sizes and shapes. They are inexpensive and rugged and reasonably accurate, with wide temperature ranges. However, the reference junction temperature must be held at a constant value otherwise deviations must be compensated for. The low junction voltages mean that special screened cable and careful installation must be used to prevent electrical interference or 'noise' from distorting signals.