The DN25 control valve will therefore be unsuitable for this application where wet steam passes through the valve outlet.

One solution to this problem is to fit a larger bodied valve with the same Kvs of 10 to reduce the wet steam outlet velocity.

Consider Table 6.4.1 to determine the minimum sized control valve with an outlet area greater than 0.002 22 m2.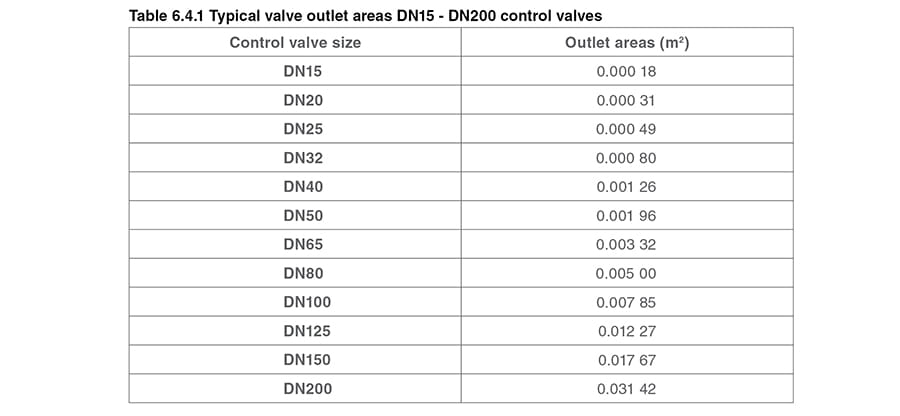 It can be seen from Table 6.4.1 that the smallest valve required to satisfy the maximum outlet velocity of 40 m/s for wet steam is a DN65 valve, having an outlet area of 0.003 32 m2.

Therefore, due to wet steam passing through the valve outlet, the size of the control valve would increase from, in this instance a DN25 (1") to DN65 (2½").

A better solution might be to fit a separator before the control valve. This will allow the smaller DN25 control valve to be used, and is preferred because:
It will give better regulation as it is more appropriately sized to handle changes in the steam load.
It will ensure dry steam passes through the control valve, thereby reducing the propensity for erosion at the valve seat and valve outlet.
It will ensure optimal performance of the heat exchanger, as the heating surface is not thermally insulated by moisture from wet steam.
The cost of the smaller valve and its actuator plus separator will probably be the same as the larger valve with a larger actuator.
Sizing on an arbitrary pressure drop
If the apparatus working pressure is not known, it is sometimes possible to compromise.

It should be stressed that this method should only be used as a last resort, and that every effort should be made to determine the working pressures and flowrate.

Under these circumstances, it is suggested that the control valve be selected using a pressure drop of 10% to 20% of the upstream pressure. In this way, the selected control valve will more than likely be oversized.

To help this situation, an equal percentage valve will give better operational performance than a linear valve (this is discussed in more detail in Module 6.5 'Control valve characteristics'.

Sizing on an arbitrary pressure drop is not recommended for critical applications.

The higher the pressure drop the better?
It is usually better to size a steam valve with critical pressure drop occurring across the control valve at maximum load. This helps to reduce the size and cost of the control valve.

However, the application conditions may not allow this.

For example, if the heat exchanger working pressure is 4.5 bar a, and the maximum available steam pressure is only 5 bar a, the valve can only be sized on a 10% pressure drop ([5 – 4.5]/5) = 0.1. In this situation, sizing on critical pressure drop would have unduly reduced the size of the control valve, and the heat exchanger would be starved of steam.

If it is impossible to increase the steam supply pressure, one solution is to install a larger heat exchanger operating at a lower pressure. In this way, the pressure drop will increase across the control valve.

This could result in a smaller valve but, unfortunately, a larger heat exchanger, because the heat exchanger operating pressure (and temperature) is now lower.

However, a larger heat exchanger working at a lower pressure brings some advantages:
There is less tendency for the heating surfaces to scale and foul as the required steam temperature is lower.
Less flash steam is produced in the condensate system leading to less backpressure in the condensate return pipework.
It is important to balance the cost of the valve and heat exchanger, the ability of the valve to control properly, and the effects on the rest of the system, as explained previously.

On steam systems, equal percentage valves will usually be a better choice than linear valves, as low pressure drops will have less effect on their operating performance.

Types of steam heated heat exchangers
This subject is outside the scope of this Module, but it is useful to have a brief look at the two main types of heat exchanger used for steam heating and process applications.

The shell and tube heat exchanger
Traditionally, the shell-and-tube heat exchanger has been used for many steam heating and process applications across a broad spectrum of industries. It is robust and often 'over-engineered' for the job. It tends to have an inherently high mass and large thermal hysteresis, which can make it unwieldy for certain critical applications.

Shell-and-tube heat exchangers are often greatly oversized on initial installation, mainly because of large fouling factors applied to the calculation. They tend to have low steam velocity in the steam tube, which reduces:

• Turbulence.

• The sheer stress between the flowing steam and the tube wall.

• Heat transfer.

Low sheer stress also tends not to clean the tube surfaces; hence high fouling factors are usually applied at the design stage leading to oversizing. Due to oversizing, the actual steam pressure after installation is often much less than predicted. If this is not anticipated, the steam trap might not be correctly sized and the steam tubes might flood with condensate, causing erratic control and poor performance.

The plate (and frame) heat exchanger
Plate heat exchangers are a useful alternative; being relatively small and light, they have a small mass and are extremely quick to respond to changes in heat load.

When properly designed, they tend not to foul, but if they do, they are easily disassembled, cleaned and recommissioned. Compared to shell-and-tube exchangers, they can operate at lower pressures for the same duty, but because of their high heat transfer characteristics, and a lower requirement for oversizing, they are still smaller and less expensive than a comparable shell-and-tube exchanger.

Plate heat exchangers (when properly engineered to use steam) are therefore more economically suited to high pressure drops across control valves than their shell-and-tube counterparts. This can give the advantage of smaller and less expensive control valves, whilst minimising the cost of the heat exchanger itself. Generally, it is better to design the system so that the plate exchanger operates with critical pressure drop (or the highest possible pressure drop) across the control valve at full load.

It must be stressed that not all plate heat exchangers are suitable for steam use. It is very easy to buy a heat exchanger designed for liquid use and wrongly assume that it will perform perfectly when heated with steam. Correct selection for steam is not just a matter of pressure/temperature compatibility. Proper expertise is available from bona fide manufacturers, and this should always be sought when steam is the prime energy source.

Steam sizing examples using charts
The required 'flow coefficient' (Kvr) may be determined in a number of ways, including calculation using Equation 3.21.2 or Equation 6.4.3 or via computer software. An alternative method of simple valve sizing is to use a Kv chart, Figure 6.4.8. A few examples of how these may be used are shown below:

Saturated steam

Example 6.4.3 - Critical pressure drop application
Steam demand of heat exchanger = 800 kg/h

Steam pressure upstream of valve = 9 bar a

Steam pressure required in heat exchanger = 4 bar a

Reference steam Kv chart (Figure 6.4.8)
Draw a line from 800 kg/h on the steam flow ordinate.
Draw a horizontal line from 9 bar on the inlet pressure ordinate.
At the point where this crosses the critical pressure drop line (top right diagonal) draw a vertical line downwards until it intersects the horizontal 800 kg/h line.
Read the Kv at this crossing point, i.e. Kvr 7.5
Example 6.4.4 - A non critical-pressure-drop application
Steam demand of heat exchanger = 200 kg/h

Steam pressure upstream of valve = 6 bar a

Steam pressure required in heat exchanger = 5 bar a

Reference steam Kv chart (Appendix 1)

As in example 6.4.3, draw a line across from the 200 kg/h steam flow ordinate, and then draw another line from the 6 bar inlet pressure ordinate to the 1 bar pressure drop line.

Drop a vertical line from the resulting intersection point, to meet the 200 kg/h horizontal and read the Kv at this crossing point i.e. Kvr 3.8

Example 6.4.5 - Find the pressure drop (ΔP) across the valve having a known Kvs value
Steam demand of heat exchanger = 3 000 kg/h

Steam pressure upstream of valve = 10 bar a

Kvs of valve to be used = 36

Reference steam Kv chart (Appendix 1)

Draw a horizontal line from 3 000 kg/h to meet at the Kv 36 line. Draw a vertical line upward from this intersection to meet the 10 bar horizontal line.

Read the pressure drop at this crossing point, delta symbol - body text.jpgP 1.6 bar.

Note: In the examples, to convert gauge pressure (bar g) to absolute pressure (bar a) simply add '1' to the gauge pressure, for example, 10 bar g = 11 bar a.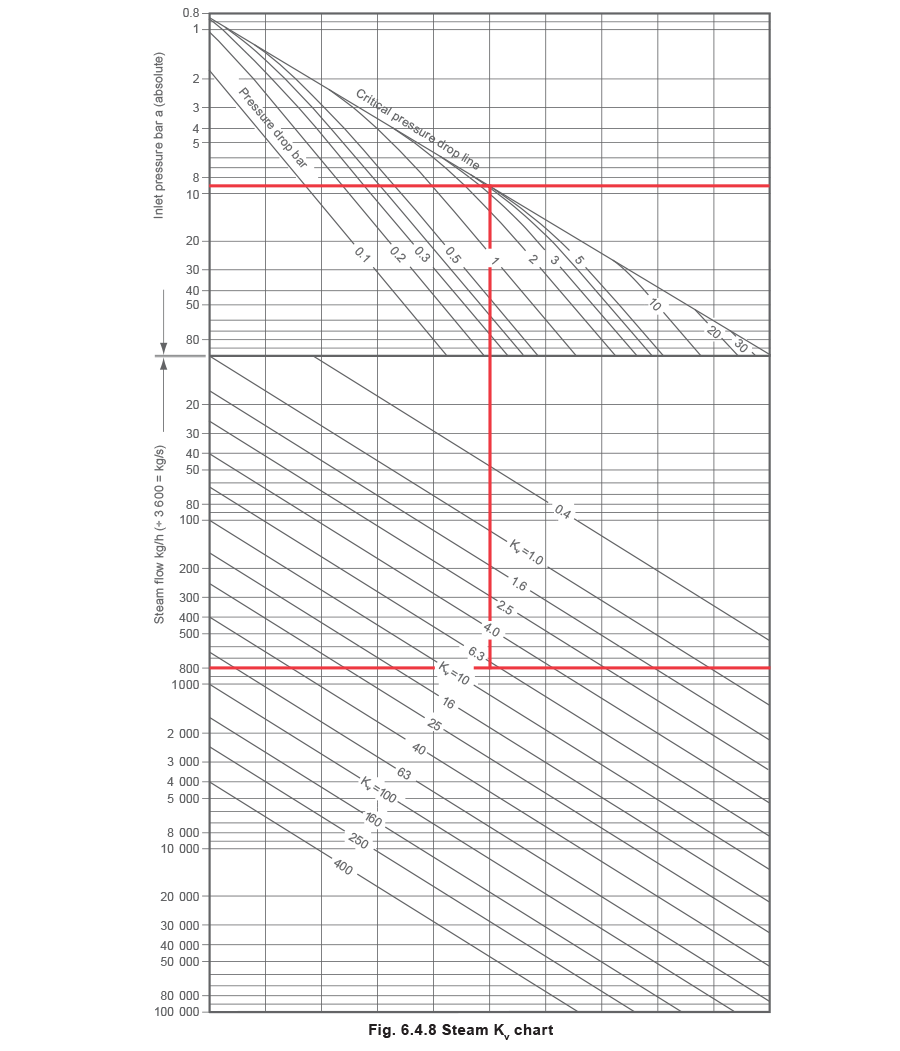 Superheated steam
To size a valve for use with superheated steam refer to Example 6.4.6 and the superheated steam chart, Figure 6.4.9.

Example 6.4.6
The following example shows how to use the chart for 100°C of superheat: follow the respective steam flow line on the left to the vertical line which represents 100°C of superheat, then draw a horizontal line across as normal from the resulting intersection. By doing this, the graph introduces a correction factor for the superheat and corrects the Kv value.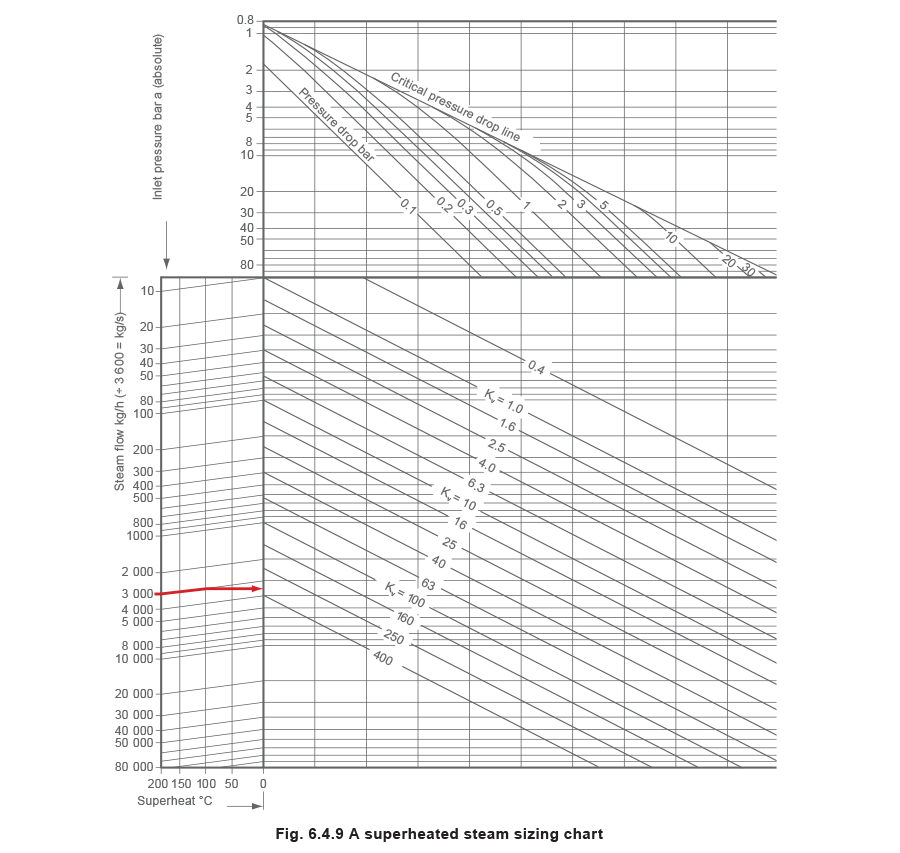 Selecting a control valve for steam service
The previous Section covered the procedure for sizing a control valve based on the flowrate it needs to pass, and the pressure drop across the valve. From this data, the Kvs value of the control valve can be obtained. Reference to the appropriate product literature will provide the information needed to select the required valve size.

Control valve selection requires several other factors to be taken into account. The body material must be selected to suit the application. Valves are available in cast iron, SG iron, bronze, steel, stainless steel, and exotic materials for very special applications, for example titanium steel.

The design and material of the control valve must be suitable for the pressure of the system in which it will be fitted. In Europe, most valves have a nominal pressure body rating, stipulated by the letters 'PN' which actually means 'Pression Nominale'. This relates to the maximum pressure (bar gauge) the valve can withstand at a temperature of 120°C. The higher the temperature, the lower the allowable pressure, resulting in a typical pressure/temperature graph as shown in Figure 6.4.10.

It should be noted that the type of material used in manufacturing the control valve plays an important part in the pressure/temperature chart. Typical limiting conditions are:

Typically, the control valve cannot be used if the pressure/temperature conditions are in this area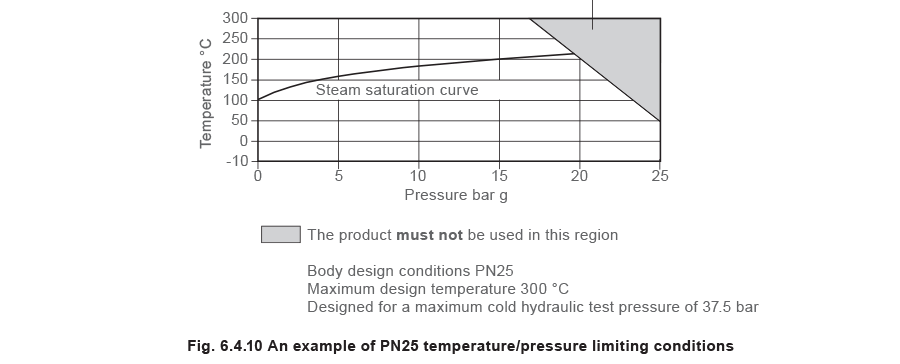 The design thickness and body jointing methods also have an effect. For example, an SG iron valve could have a PN16 rating and may also be available with a slightly different design, with a PN25 rating. Local or national regulations may affect the limits, as may the type of connection which is used.

A checklist of the major factors to be taken into account when selecting a control valve for steam service include:
Mass flow or volumetric flow to be considered (typically maximum, normal or minimum).
Flow medium (this may affect the type of material used for the valve body and internals).
Upstream pressure available at maximum, normal and minimum loads.
Downstream pressure for maximum, normal and minimum loads.
Kv value required.
Pressure drop across the valve at maximum, normal and minimum loads.
Body size of valve.
Body material and nominal pressure rating.
Maximum differential pressure for shut-off.
Connection required. Which pipe connections are required on the inlet and outlet of the valve? Screwed or flanged connections, and which type of flange, for example, ASME, EN 1092 or DIN?
Maximum temperature of the medium flowing through the valve.
Any special requirements, for example, special gland packing variations; hardened valve seat and plug, soft seats for absolutely tight shut-off; and others
Note: Manufacturers restrict the leakage rates of control valves to agreed limits and/or they are sometimes the subject of national standards. Also see point 17.
13. Details of the application control requirements. This is explained in more detail in Module 6.5. Briefly, an application needing on/off control (either fully-open or fully-closed) may require a valve characteristic suited to that purpose, whereas an application calling for continuous control (any degree of opening or closing), might perform better with a different type of valve characteristic.
14. Method of actuation and type of control to be used; for example, self-acting, electric, pneumatic, electropneumatic.
15. Noise levels. It is often a requirement to keep noise below 85 dBA at 1 m from the pipe if people are to work unprotected in the area. Keeping the same size internals but increasing the size of the connections may achieve this. (Many control valves have the option of reduced trim variants, alternatively special noise-reducing trims are available, and/or acoustic lagging can be applied to the valve and pipework. Valves for critical process applications should be sized using computer software utilising the IEC 60534 standard or national equivalent.
16. Pressure drops, sizes of valve body and noise level are related and should be considered. It is good practice to keep the downstream steam velocity in the valve body typically below 150 m/s for saturated steam and 250 m/s for superheated steam. This can be achieved by increasing the valve body size, which will also reduce the velocity in the valve outlet and the likelihood of excess noise. It is possible to consider a saturated steam exit velocity of 150 m/s to 200 m/s if the steam is always guaranteed to be dry saturated at the valve inlet. This is because, under these circumstances, the steam leaving the control valve will be superheated due to the superheating effect of reducing the pressure of dry saturated steam. Please note that these are general figures, different standards will quote different guidelines.
17. Leakage and isolation. Control valves are meant to control flowrate rather than isolate the supply, and are likely to leak slightly when fully shut. Control valves will be manufactured to a standard relating to shut-off tightness. Generally, the better the shut-off, the higher the cost of the valve. For steam control valves, a leakage rate of 0.01% is perfectly adequate for most applications.

18. Turndown. Usually expressed as a ratio of the application maximum expected flow to the minimum controllable flow through a control valve.

19. Rangeability. Usually expressed as a ratio of the valve maximum controllable flow to the minimum controllable flow, between which the characteristics of the control valve are maintained. Typically, a rangeability of 50:1 is acceptable for steam applications.

20. It would be wrong to end this Module on control valves without mentioning cost. The type of valve, its materials of construction, variations in design and special requirements will inevitably result in cost variations. For optimum economy the selected valve should be correct for that application and not over-specified.
Appendix 1 Saturated steam valve sizing chart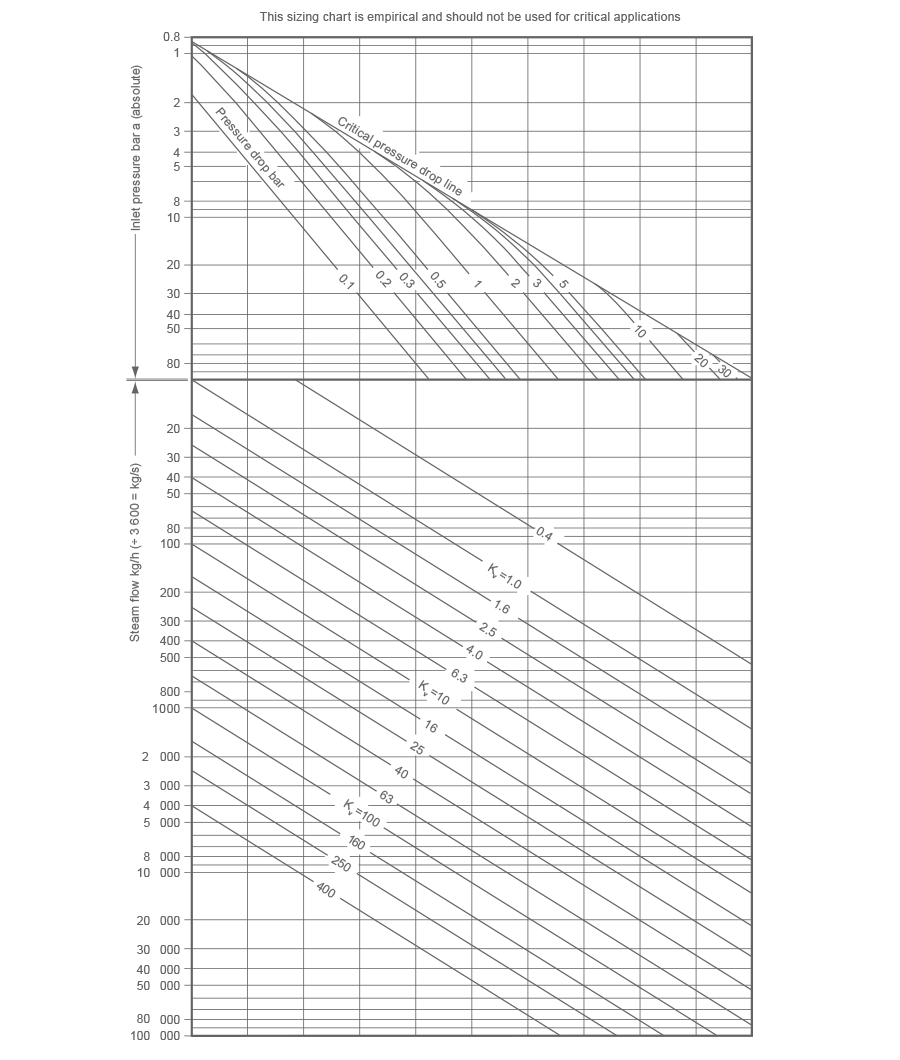 Appendix 2 Superheated steam valve sizing chart