How to drain steam mains
Steam traps are the most effective and efficient method of draining condensate from a steam distribution system.
The steam traps selected must suit the system in terms of:
Pressure rating
Capacity
Suitability
Pressure rating
Pressure rating is easily dealt with; the maximum possible working pressure at the steam trap will either be known or should be established.
Capacity
Capacity, that is, the quantity of condensate to be discharged, which needs to be divided into two categories; warm-up load and running load.
Warm-up load
In the first instance, the pipework needs to be brought up to operating temperature. This can be determined by calculation, knowing the mass and specific heat of the pipework and fittings. Alternatively, Table 10.3.2 may be used.
The table shows the amount of condensate generated when bringing 50 m of steam main up to working temperature; 50 m being the maximum recommended distance between trapping points.
The values shown are in kilograms. To determine the average condensing rate, the time taken for the process must be considered. For example, if the warm-up process required 50 kg of steam, and was to take 20 minutes, then the average condensing rate would be:

When using these capacities to size a steam trap, it is worth remembering that the initial pressure in the main will be little more than atmospheric when the warm-up process begins. However, the condensate loads will still generally be well within the capacity of a DN15 'low capacity' steam trap. Only in rare applications at very high pressures (above 70 bar g), combined with large pipe sizes, will greater trap capacity be needed.
Running load
Once the steam main is up to operating temperature, the rate of condensation is mainly a function of the pipe size and the quality and thickness of the insulation.
For accurate means of calculating running losses from steam mains, refer to Module 2.12 'Steam consumption of pipes and air heaters'. Alternatively, for quick approximations of running load, Table 10.3.3 can be used which shows typical amounts of steam condensed each hour per 50 m of insulated steam main at various pressures.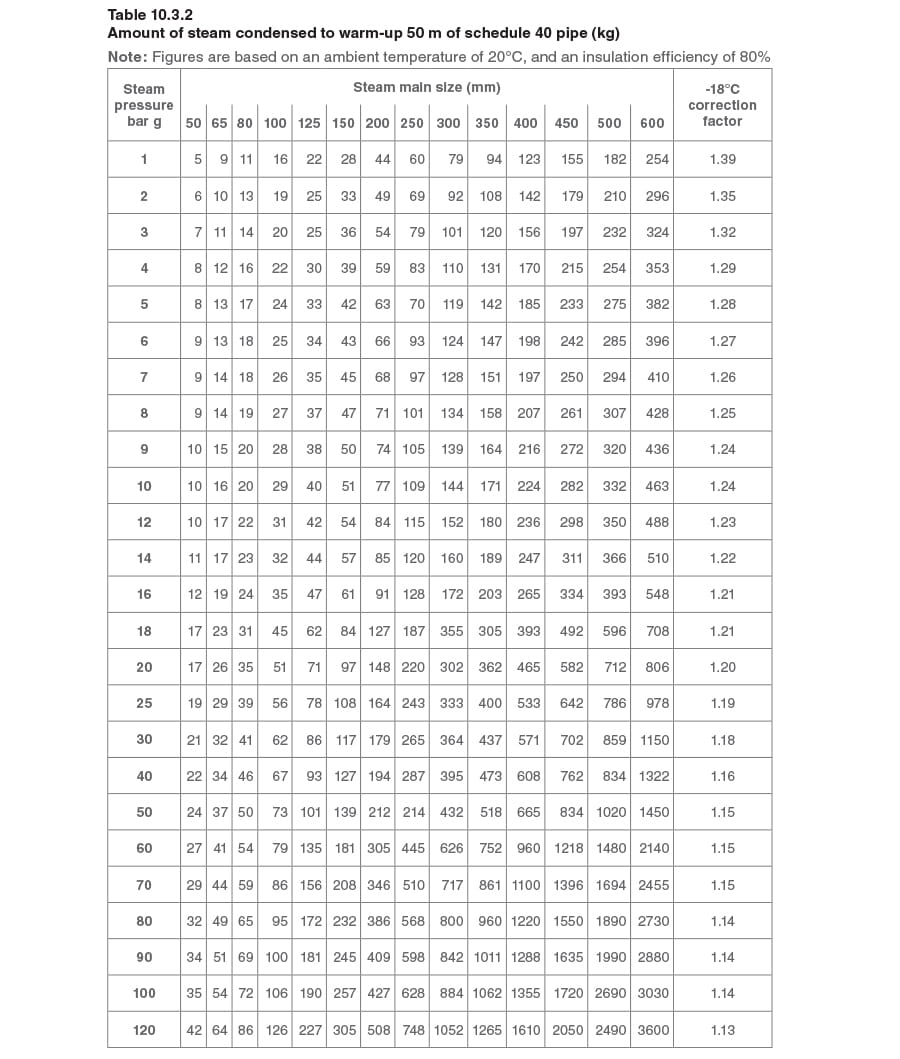 Suitability
A mains drain trap should consider the following constraints:
Discharge temperature - The steam trap should discharge at, or very close to saturation temperature, unless cooling legs are used between the drain point and the trap. This means
that the choice is a mechanical type trap (such as a float, inverted bucket type, or thermodynamic traps).
Frost damage - Where the steam main is located outside a building and there is a possibility of sub-zero ambient temperature, the thermodynamic steam trap is ideal, as it not damaged by frost. Even if the installation causes water to be left in the trap at shutdown and freezing occurs, the thermodynamic trap may be thawed out without suffering damage when brought back into use.
Waterhammer - In the past, on poorly laid out installations where waterhammer was a common occurrence, float traps were not always ideal due to their susceptibility to float damage. Contemporary design and manufacturing techniques now produce extremely robust units for mains drainage purposes. Float traps are certainly the first choice for proprietary separators as high capacities are readily achieved, and they are able to respond quickly to rapid load increases.
Steam traps used to drain condensate from steam mains, are shown in Figure 10.3.14. The thermostatic trap is included because it is ideal where there is no choice but to discharge condensate into a flooded return pipe.
The subject of steam trapping is dealt with in detail in the Block 11, 'Steam Trapping'.