Calculation of heat transfer
The calculation of heat losses from pipes can be very complex and time consuming, and assume that obscure data concerning pipe wall thickness, heat transfer coefficients and various derived constants are easily available, which, usually, they are not.
The derivations of these formulae are outside the scope of this Module, but further information can be readily found in any good thermodynamics textbook. To add to this, an abundance of contemporary computer software is available for the discerning engineer.
This being so, pipe heat losses can easily be found by reference to Table 10.5.1 and a simple equation (Equation 2.12.2).
The table assumes ambient conditions of between 10 - 21°C, and considers heat losses from bare horizontal pipes of different sizes with steam contained at various pressures.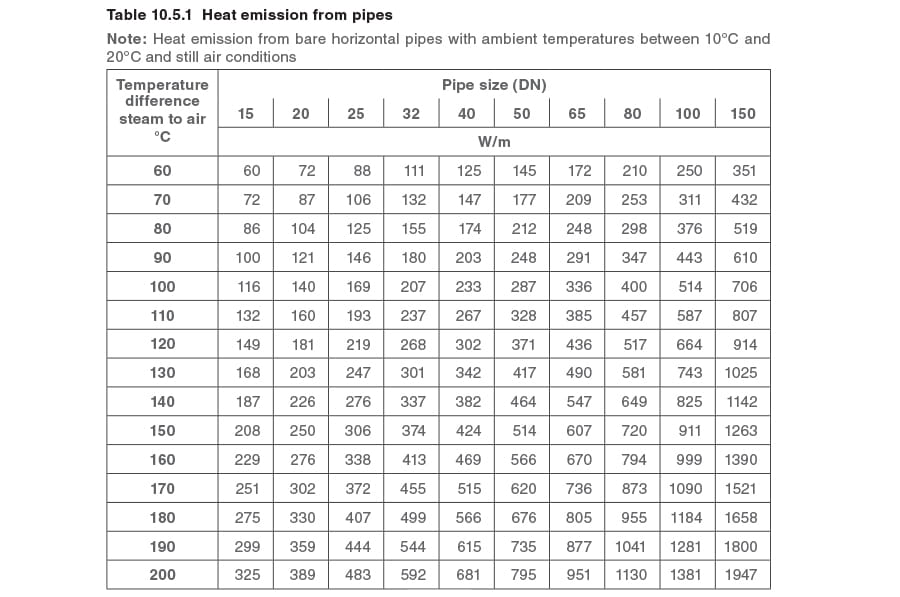 Other factors can be included in the equation, for instance, if a pipe is lagged with insulation providing a reduction in heat losses to 10% of the uninsulated pipe, then it is multiplied by a factor of 0.1.

Note: The constant 3.6 gives the answer in kg/h
Equivalent lengths:
Pair of mating flanges 0.5 m
Line size valve 1.0 m
Example 10.5.1
50 m of 100 mm pipe has 8 pairs of flanges and two valves, and carries saturated steam at 7 bar g. Ambient temperature is 10°C, and the insulation efficiency is given as 0.1
With reference to Table 10.5.1 and the application of Equation 10.5.1: determine the quantity of steam that will be condensed per hour:
Part 1 - Without insulation.
Part 2 - With the pipe insulated, but the valves and flanges are left without insulation.
Part 3 - Completely insulated.
Equivalent length of fittings:
(8 pairs of flanges @ 0.5 m) + (2 valves @ 1.0 m) = 6.0 m of pipe
Saturated steam at 7 bar g:

Part 1 - Without insulation:

Part 2 - Pipe insulated, but without insulation on the valves and flanges:
Consider the two elements separately: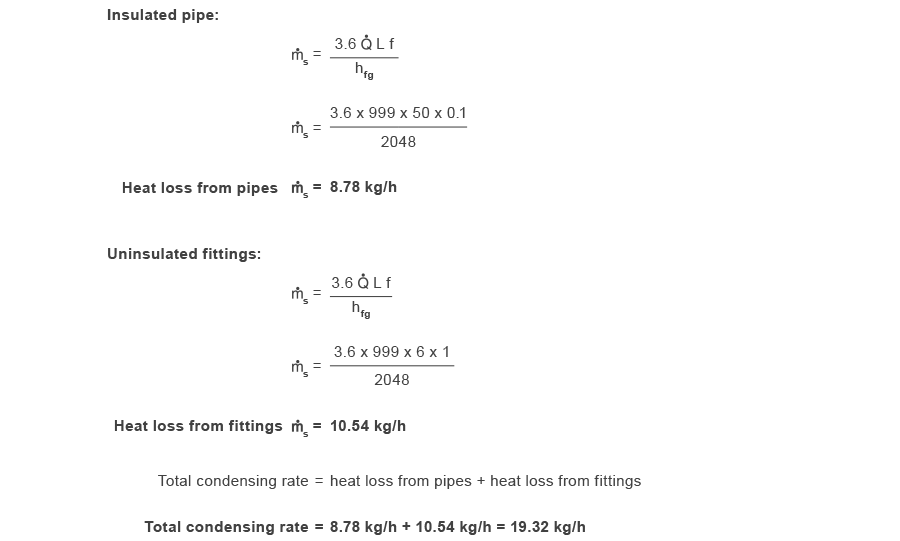 Part 3 - Pipe and fittings insulated: