It is impractical to reduce the steam temperature to its saturated value, as the control system is unable to differentiate between saturated steam and wet steam at the same temperature.
Because of this, the temperature is always controlled at a value higher than the relevant saturation temperature, usually at 5°C to 10°C above saturation.
For most applications, the basic system as shown in Figure 8.1.9 will work well. As the downstream pressure is maintained at a constant value by the pressure control loop, the set value on the temperature controller does not need to vary; it simply needs to be set at a temperature slightly above the corresponding saturation temperature.
However, sometimes a more complex control system is required, and is shown in Figure 8.1.10. Should there be a transient change in the superheated steam supply pressure, or a change in the water supply temperature, the required water/steam flow ratio will also need to change.
A change in the water/steam flow ratio will also be required if the downstream pressure changes, as is sometimes the case with certain industrial processes.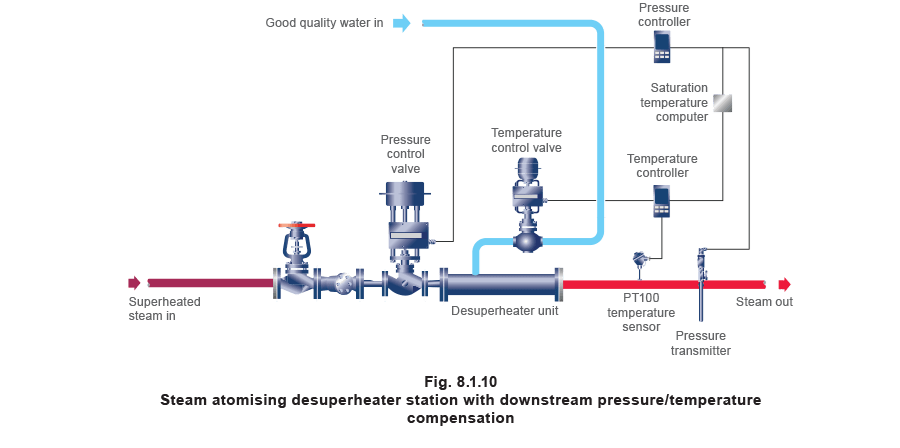 The system shown in Figure 8.1.10 works by having the pressure controller set at the required downstream pressure and operating the steam pressure control valve accordingly.
The 4-20 mA signal from the pressure transmitter is relayed to the pressure controller and the saturation temperature computer, from which the computer continuously calculates the saturation temperature for the downstream pressure, and transmits a 4-20 mA output signal to the temperature controller in relation to this temperature.
The temperature controller is configured to accept the 4-20 mA signal from the computer to determine its set point at 5°C to 10°C above saturation. In this way, if the downstream pressure varies due to any of the reasons mentioned above, the temperature set point will also automatically vary. This will maintain the correct water/steam ratio under all load or downstream pressure conditions.