Radio frequency interference (RFI)
Radio frequency interference is electrical noise that can cause corruption of control signals and affect the operation of electronic controllers.
There are two forms of RFI:
Continuous
Impulse (transient).
Radio transmitters, computers, induction heaters, and other such equipment emit continuous high frequency radio interference.
Impulse interference is generated from electrical arcing, which can occur on the opening of switch contacts especially those responsible for switching inductive components, such as motors or transformers.
The control engineer is often most concerned about impulse interference. The pulses are of very high intensity and very short duration, and can disturb genuine electrical control signals.
Transmission of RFI
Radio interference can travel via two modes:
Conducted interference is communicated to the controller via mains supply cables. Having an interference suppressor in the supply as close to the controller as possible can reduce its effect.
Radiated interference is a greater problem because it is harder to counteract. This form of interference is like a broadcast transmission being picked up by 'aerials' naturally formed by the signal wiring, and then re-emitted within the controller box to more sensitive areas.
The electronic components within the controller can also receive transmissions directly,
especially if the interference source is within 200 mm.
Effects of RFI
Controller types respond to different forms of interference in different ways.
Analogue controllers will usually respond to continuous rather than transient interference but will usually recover when the interference ceases. The symptoms of continuous interference are not easily recognisable because they usually influence the measurement accuracy. It is often difficult to distinguish between the effects of interference and the normal operation of the device.
Transient interference is more likely to affect relay outputs, as its occurrence is faster than that which the analogue circuits can respond.
Microprocessor based controllers are more subject to corruption from transient impulse interference but have a higher immunity to continuous interference.
The first indication that interference has occurred is often that the display has locked up, is scrambled or contains meaningless symbols in addition to the normal display.
More difficult symptoms to detect include measurement inaccuracies or incorrect actuator position, this may continue undetected until the system is clearly out of control.
Installation practice to limit RFI
The correct selection and installation of control signal wiring is vital to reduce susceptibility to RFI.
Twisted pairs of wires are less susceptible to interference than parallel run cables (Figure 8.4.2).
Earthed screened cables are even less susceptible to interference than twisted pairs of wires, but this cannot always be relied on, especially near high current cables.

Screened cable (Figures 8.4.3) should only be earthed at one end, see Figure 8.4.3 ('A' and 'B'); earthing at both ends will lead to a deterioration in this situation.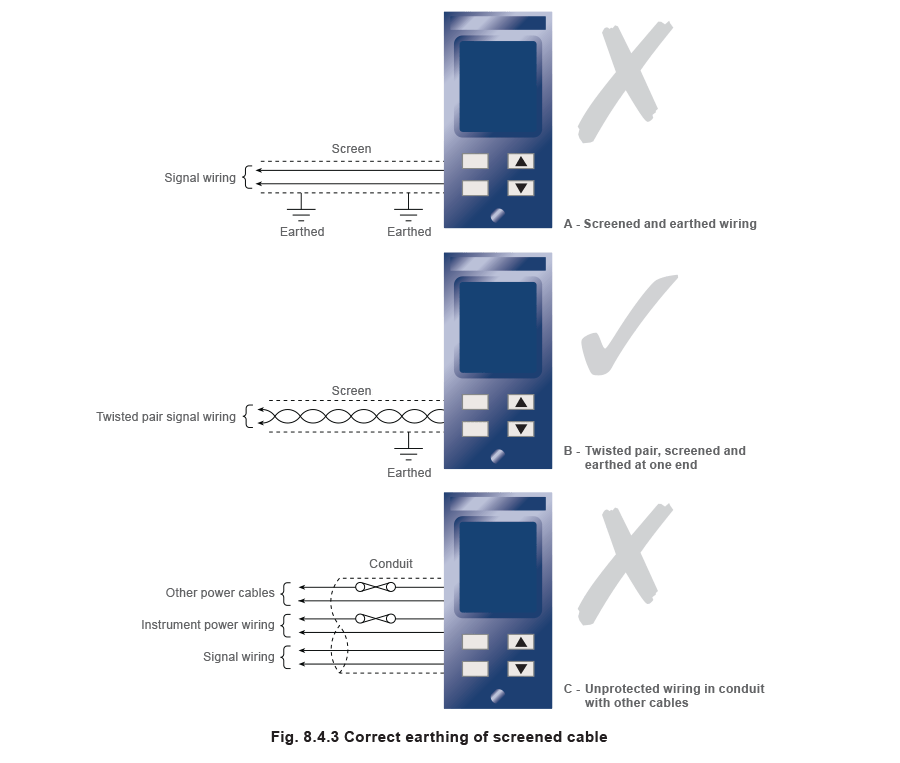 Keeping wires separate from power wiring (Figure 8.4.4) can reduce pick-up via the signal wires.
BS 6739: 1986 recommends that this separation should be at least 200 mm for instrument power wiring and 250 mm for other power cables.

It has been found in practice that signal wires can be run alongside / close to power wiring providing they are contained within their own earthed screen, see Figure 8.4.5.

Impulse interference generated from electrical arcing can be reduced by means of an appropriate suppressor connected across switch contacts.
Pick-up via direct radiation can be reduced by installing the controllers at least 250 mm away from interference sources, such as contact breakers or mains switching relays.
Cable separation
The following information is reprinted from the British Standard Code of Practice for Instrumentation
in Process Control systems: installation design and practice BS 6739: 1986:
Paragraph 10.7.4.2.2 - Separation from power cables
Instrument cables should be routed above or below ground, separated from electrical power cables (i.e. ac, cables usually above 50 Vac with a 10 A rating).
Parallel runs of cables should be avoided. However, where this is unavoidable, adequate physical separation should be provided.
A spacing of 250 mm is recommended from ac power cables up to 10 A rating. For higher ratings, spacing should be increased progressively.
Where it is unavoidable for signal and power cables to cross over each other, the cables should be arranged to cross at right angles with a positive means of separation of at least 250 mm.
Paragraph 10.7.4.2.3 - Separation between instrument cables
Categories 1 and 2 spaced 200 mm.
Categories 2 and 3 spaced 300 mm.
Categories 1 and 3 spaced 300 mm.
Cables are categorised as follows:
Power cables ac - Cables usually above 50 Vac with a 10 amp rating.
Category 1. Instrument power and control wiring above 50 V - This group includes ac and dc power supplies and control signals up to 10 A rating.
Category 2. High-level signal wiring (5 V to 50 Vdc) - This group includes digital signals, alarm signals, shutdown signals and high level analogue signals e.g. 4 - 20 mA.
Category 3. Low-level signal wiring (below 5 Vdc) - This group includes temperature signals and low-level analogue signals. Thermocouple wiring comes within this category.
Although it is not always practical, every effort should be made to achieve the recommended separations given.