Determine the annual value​ of returning the condensate
Part 1 - Determine the fuel cost
Each kilogram of condensate not returned to the boiler feedtank must be replaced by 1 kg of cold make-up water (10°C) that must be heated to the condensate temperature of 90°C. (ΔT = 80°C).
Calculate the heat required to increase the temperature of 1 kg of cold make-up water by 80°C, by using Equation 2.1.4.
m is unity; ΔT is the difference between the cold water make-up and the temperature of returned condensate; cp is the specific heat of water at 4.19 kJ/kg °C.
1 kg x 4.19 kJ/kg °C x 80°C = 335 kJ/kg

Basing the calculations on an average evaporation rate of 10000 kg/h, for a plant in operation 8 400 h /year, the energy required to replace the heat in the make-up water is:
10 000 kg/h x 335 kJ/kg x 8 400 h/year = 28 140 GJ/year

If the average boiler efficiency is 85%, the energy supplied to heat the make-up water is:

With a fuel cost of £2.77/GJ, the value of the energy in the condensate is:

Annual fuel cost = 33 106 GJ / year x £2.77/GJ = £917 04
Part 2 - Determine the water cost
Water is sold by volume, and the density of water at normal ambient temperature is about 1000 kg /m3. The total amount of water required in one year replacing non-returned condensate is therefore:

If water costs are £0.61 per m³, the annual water cost is:

Annual water cost = 84000 m3/ year x £0.61/m3 = £51 240

Part 3 - Determine the effluent cost
The condensate that was not recovered would have to be discharged to waste, and may also be charged by the water authority.
Total amount of water to waste in one year also equals 84000 m³
If effluent costs are £0.45 per m³, the annual effluent cost is:
Annual effluent cost = 84000 m3/ year x £0.45/m3 = £37 800
Part 4 - Total value of condensate
The total annual value of 10 000 kg/h of condensate lost to waste is shown in Table 14.1.1:
On this basis, it follows that for each 1% of condensate returned per 10 000 kg/h evaporated as in Example 14.1.2, a saving of 1% of each of the values shown in Table 14.1.1 would be possible.
Example 14.1.3
If it were decided to invest £50 000 in a project to return 80% of the condensate in a similar
plant to Example 14.1.2, but where the total evaporation rate were only 5 000 kg/h, the savings and simple payback term would be:

This sample calculation does not include a value for savings due to correct TDS control and reduced blowdown, which will further reduce water losses and boiler chemical costs. These can vary substantially from location to location, but should always be considered in the final analysis. Clearly, when assessing condensate management for a specific project, such savings must be determined and included.
TDS control and water treatment have already been discussed in Block 3.
The routines outlined in Examples 14.1.2 and 14.1.3 may be developed to form the basis of a forced path calculation to assign a monetary value to projects intended to improve condensate recovery.
Equation 14.1.1 can be used to calculate the fuel savings per year: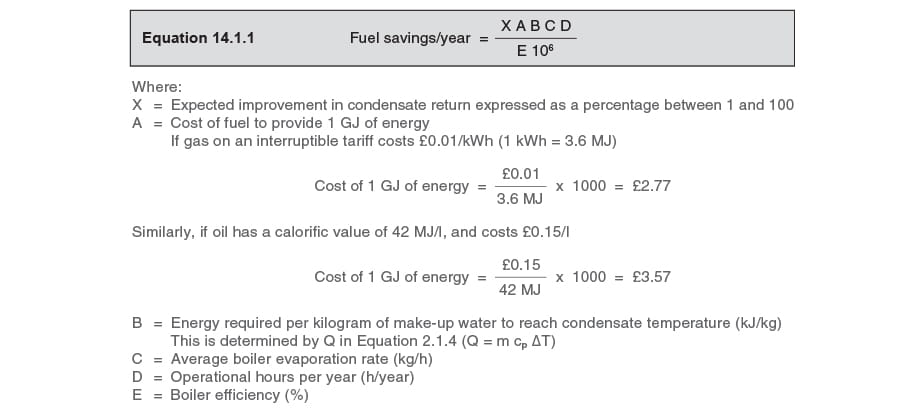 Savings in water costs can be determined using Equation 14.1.2:

Savings in effluent costs can be determined using Equation 14.1.3:

Example 14.1.4
A major condensate management project costing £70 000 expects to recover an additional 35% of the condensate produced at a plant.
The average boiler steaming rate is 15000 kg/h, and the plant operates for 8000 h/year.
The fuel used is gas on a firm tariff of £0.011/ kWh, and the boiler efficiency is estimated as 80%.
Make-up water temperature is 10°C and insulated condensate return lines ensure that condensate will arrive back at the boiler house at 95°C.
Consider the water costs to be £0.70/m3 and the total effluent costs to be £0.45/m3.
Determine the payback period for the project.
Part 1 - Determine the fuel savings
Use Equation 14.1.1: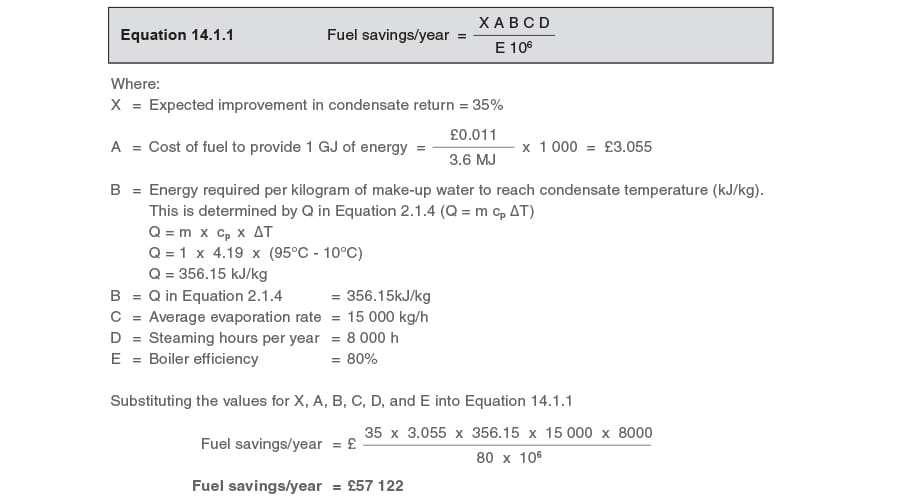 Part 2 - Determine the water and effluent savings
Use Equation 14.1.2 to calculate the savings in water costs/year: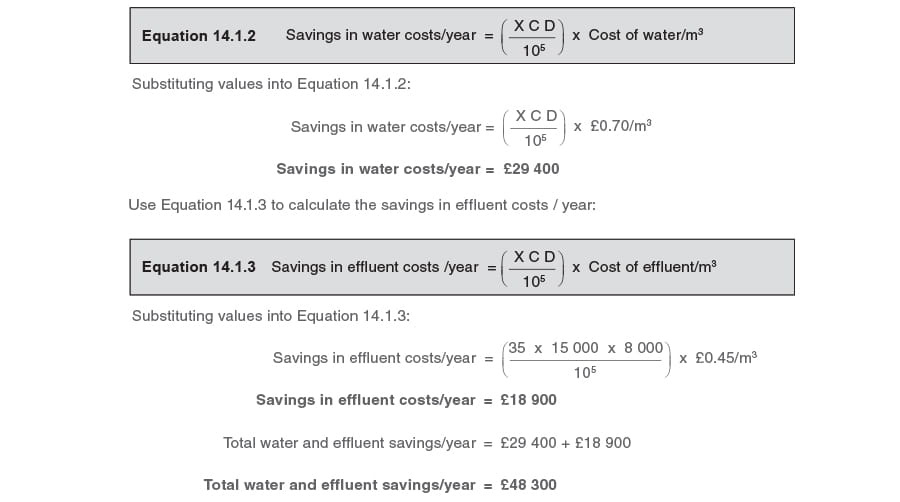 Part 3 - Determine the payback period