'The Steam and Condensate Loop' book is an engineer's best practice guide to saving energy and optimizing plant performance.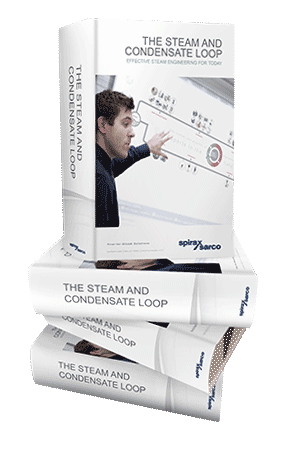 This essential book explains the principles of steam engineering and heat transfer, covering all aspects of steam and condensate systems from the boiler house, through the steam distribution system to the point of use, and recovering, and returning condensate back to the boiler.

Optimizing your plant through best practice energy saving principles can greatly reduce your carbon emissions.
With practical application knowledge to deliver energy saving solutions, this indispensable reference guide is a must for all experienced engineers and an invaluable training tool to all those new to steam engineering.
Features
16 Chapters
Comprehensive short modules
Self-test questions
Comprehensive index
Equations summary section
Full color and illustrated throughout
Practical application techniques
Contains our complete collection of Steam Engineering Tutorials
Product details
Hardback: 1,456 pages
ISBN: ISBN 978-0-9550691-5-4
Publication date: 2011
Language: English
Units of measurement: SI Units
Price: $129 (Includes 'The Steam and Condensate Loop Book', FREE 'Metric Data Book and Steam Tables', Shipping anywhere in the United States and handling.)
Orders outside of the United States please click here
Delivery: Allow 1-3 weeks for delivery.
To purchase The Steam & Condensate Loop Book, complete the form below.
After completing the form you will be redirected to complete payment details. Your purchase is complete once the payment has been processed.